Help Your Daughter Develop a Healthy Sexual Identity
Whitney Hopler, Live It Editor
Monday, October 23, 2006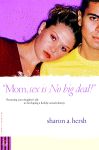 The following is a report on the practical applications of Sharon A. Hersh's new book, Mom, Sex is NO Big Deal! (Shaw Books, 2006).

As a mom, you naturally want what's best for your teenage daughter, and the thought of her experimenting with sex breaks your heart. But in our sex-saturated culture, the majority of teens end up doing so, anyway – even Christians who had planned and tried to stay sexually pure.
It's a tough battle to fight. But if you help your daughter develop a healthy sexual identity, you can help her win it. Here's how:
Build a close relationship with her. Realize that educating your daughter about sex and asking her to sign an abstinence pledge is only a start, and not all you need to do to help her stay pure. Understand that, while "head" knowledge is good, "heart" knowledge is even better. Seek to build a close emotional bond with your daughter so she comes to truly respect you, trust you, and enjoy being with you. Know that sharing a relationship like that with you will motivate her to genuinely listen to you and give her the confidence she needs to risk hard decisions when confronting temptation and pressure.

Make it a priority to spend as much time as possible with her on a regular basis. Have fun together doing some activities she likes to do. Let her know that she can talk to you about anything without fear of criticism or punishment. Encourage her to share her experiences with you openly and honestly; react with a positive attitude. Ask her questions about her life to demonstrate interest and get to know her well, but don't pry or try to manipulate her. Help her know that she's safe with you and doesn't have to try to hide anything.

Make it clear to your daughter how valuable she is to you, so she'll come to value herself and be more likely to protect her body and guard her heart. Give her the love she needs, so she'll be less likely to seek it through unhealthy relationships with guys.
Don't be afraid. Ask God to give you the courage you need to talk openly and honestly with your daughter about sex. Remember that your daughter needs to you be her ally as she navigates through some of the most crucial decisions of her life. Don't shy away from discussing topics like these on an ongoing basis: romance and dating, faith and dating, married sex, sexual limits, media and sex, God and sex, sexual harassment, abortion, sexual intercourse, alcohol and drugs and sex, date rape, your sexual history, abstinence, oral sex, HIV/AIDS, STDs, condoms, other forms of contraception, kissing, sexual pleasure, making out, sexual orientation, and pregnancy.
Affirm her longings. Don't diminish the importance of your daughter's natural longings for relationships and romance. Acknowledge that those yearnings are an important part of growing up into a woman, and that it's good to have them. Let her know that God gave her those longings for a good purpose, and that it's worthwhile to wait to fulfill that purpose in the right way – through a loving, committed marriage.
Examine your own views about sex. Consider your beliefs about sex. Do you dread it or enjoy it, and why? Think and pray about your own sexual experiences, and seek healing for whatever you need to achieve a healthy perspective on sex. Realize that you need to present a healthy example to your daughter to help her understand why sex is valuable and worth saving herself for. Write what you have learned as a result of your sexual experiences, and make time to discuss that with your daughter so she can see how God has been working in your life. Ask God to help you connect your story with her story in redemptive ways. When you share your story with her, be direct, focus on what God has taught you through it, and invite your daughter to follow up by telling you her own story so far.
Have something to say about this article? Leave your comment via Facebook below!
advertise with us
Example: "Gen 1:1" "John 3" "Moses" "trust"
Advanced Search
Listen to Your Favorite Pastors