How to Impact Your Teen's Values on Love, Sex, & Marriage
Dr. Greg Smalley, The Smalley Relationship Center
Thursday, January 13, 2005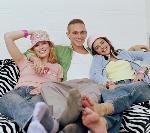 The second way to become an effective model is best illustrated by something that happened in Texas, when a city slicker collided with a truck carrying a horse. A few months later he tried to collect damages for his injuries. "How can you now claim to have all these injuries?" asked the insurance company's lawyer. "According to the police report, at the time you said were not hurt."
"Look," replied the city slicker. "I was lying on the road in a lot of pain, and I heard someone say the horse had a broken leg. The next thing I know this Texas Ranger pulls out his gun and shoots the horse. Then he turns to me and asks, 'Are you okay?'"
The lesson the city slicker learned is the second aspect of becoming an effective model: Your children need to see the consequences of your behavior -- positive or negative. This is important because it indicates what your teenager may receive for imitating you. For example, I remember watching my parents affirm their love and commitment to each other on a regular basis. My father even hung a plaque in the hallway of our home which read, "In assurance of my lifelong commitment. To Norma, Kari, Greg and Mike. Christmas 1976." The consequences my father received for making this commitment were extremely positive. As a child, I felt very safe and secure that my parents were going to stay together because I could see their commitment hanging on the wall. As a result of my parent's behavior, not a day goes by that I don't remind my wife and daughter of my love for them.
As you strive to be an effective model for your children, I encourage you to get involved in a small group with other parents who share your desire. Small groups are a powerful source of support because they not only provide accountability, but also encouragement and the perspectives of others. In Ecclesiastes 4:10-12, King Solomon recognized the importance of friends when he wrote, "If one falls down, his friend can help him up. But pity the man who falls and has no one to help him up! Also, if two lie down together, they will keep warm. But how can one keep warm alone? Though one may be overpower, two can defend themselves. A cord of three strands is not quickly broken."
References
Berman, C. (1991). Adult Children of Divorce Speak Out. New York: Simon & Schuster.
Kalmuss, D. (1984). "The Intergenerational Transmission of Marital Aggression," Journal of Marriage and the Family, 46, 11-19.

© 2004 Smalley Relationship Center.


Have something to say about this article? Leave your comment via Facebook below!
advertise with us
Example: "Gen 1:1" "John 3" "Moses" "trust"
Advanced Search
Listen to Your Favorite Pastors