How Would You Grade Yourself? Creating a Lasting Legacy
Kerry and Chris Shook, Authors, One Month to Live
Tuesday, March 06, 2012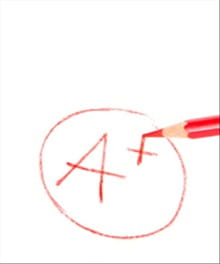 Passing the affluence inspection is not as dependent on the amount of money you have as what you do with it. Jesus told a story about a guy who failed this test miserably. He was a businessman, and his barns were full, so he said, "I'll expand my business and be even more successful." Just take a look at the consequences: "And I'll say to myself, "You have plenty of good things laid up for many years. Take life easy; eat, drink and be merry." But God said to him, 'You fool!' This very night your life will be demanded from you. Then who will get what you have prepared for yourself?' This is how it will be with anyone who stores up things for himself but is not rich toward God" (Luke 12:19-21).
God said, "No, you won't expand your business. It's over. You're out of here. The life you're building didn't pass the affluence inspection. I blessed you, and you used all the blessings on yourself. You failed the most important evaluation of your life." Every one of us has to pass the affluence inspection because God will one day hold us accountable for how we used the resources we were given.
The only way to pass the affluence test is by giving. We must learn to be givers rather than takers. It's only when we gratefully use what He gives us to bless those around us that we build a storehouse of eternal treasure.
Obedience
Finally, there's the obedience exam. Paul wrote in Ephesians 5:15-17, "So be careful how you live, not as fools but as those who are wise. Make the most of every opportunity for doing good in these evil days. Don't act thoughtlessly but try to understand what the Lord wants you to do" (NLT). This may be the greatest secret to leaving a legacy of substance: try to understand what the Lord wants you to do — and do it. Obey God, because He gives you just enough time to do everything you need to do, both in your day and in your life. Note that He doesn't give you enough time to do everything that others think you need to do. To find out what God wants you to do, you have to spend time with Him and listen to Him, and then obey.
There are thousands of things we can do in life, but there are only a few things God intends for us to accomplish. When I live out His plan for me, everything falls into place. It seems as if He multiplies my time and I'm much more productive. Obedience always leads to God's blessing. When you use your influence and affluence to obey God, He will enable you to leave behind a permanent inheritance.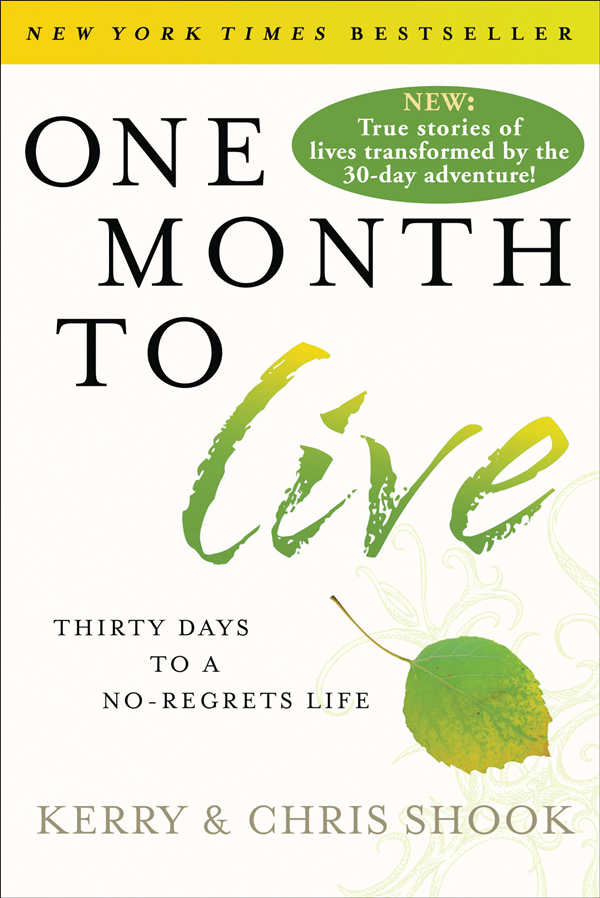 Excerpted from One Month to Live by Kerry and Chris Shook, Copyright © 2008. Excerpted with permission of WaterBrook Press, a division of Random House, Inc. All rights reserved. No part of this excerpt may be reproduced or reprinted without permission in writing from the publisher.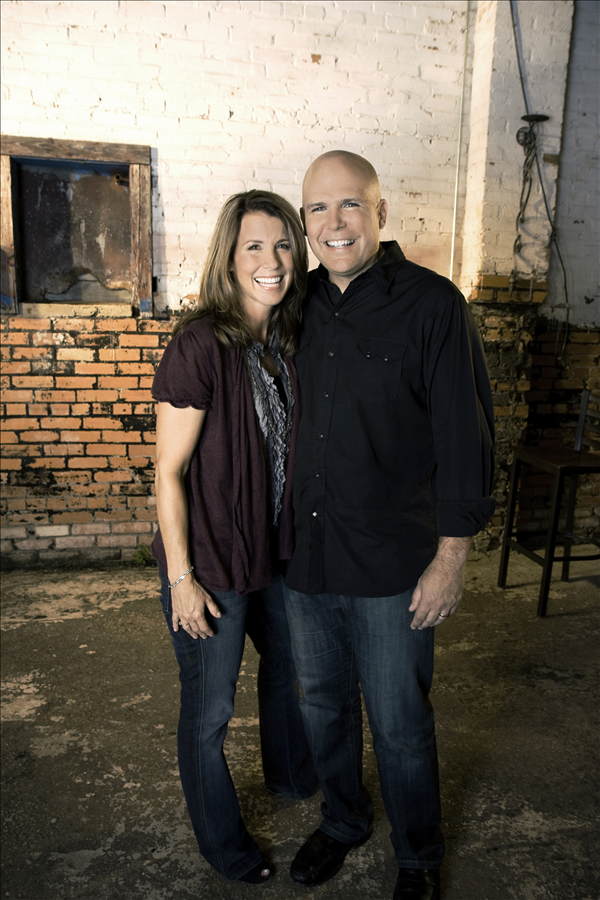 Kerry and Chris Shook founded Fellowship of The Woodlands near Houston, Texas, with eight people in 1993. Since then, the church has grown to more than fifteen thousand people. Kerry's sermons are televised nationally and internationally each week, reaching millions of people with innovative and inspiring messages. Over 4,000 churches and nearly half a million people have taken the One Month to Live challenge. One Month to Live is now available in paperback featuring new stories of lives transformed by the challenge. The Shooks are also the authors of Love at Last Sight. Married for nearly twenty-five years, they have four children. For more visit www.onemonthtolive.com.
Publication date: March 6, 2012
Have something to say about this article? Leave your comment via Facebook below!
advertise with us
Example: "Gen 1:1" "John 3" "Moses" "trust"
Advanced Search
Listen to Your Favorite Pastors