6 Words of Wisdom for the Stay-at-Home Dad
Sarah Hamaker, Crosswalk.com Contributing Writer
Friday, July 25, 2014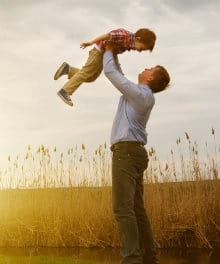 I met my first stay-at-home dad soon after we moved into the neighborhood more than a decade ago. With our houses close and our daughters of an age, we often ran into each other at Mommy and Me, at the park or children's events. Being somewhat of a people watcher, I observed his navigating the often sticky waters of being the only man with kids in a sea of females with children. Some moms viewed him suspiciously, but most happily folded him into the larger neighborhood stay-at-home moms group.
A recent Pew Research report found that the number of fathers not working outside the home rose significantly to reach 2 million in 2012—nearly doubling the 1.1 million in 1989. The share of stay-at-home dads has increased from 10% in 1989 to 16% in 2012. While the study acknowledges the role the Great Recession played in this increase, "the biggest contributor to long-term growth in these 'stay-at-home fathers' is the rising number of fathers who are at home primarily to care for their family."
Moving Beyond Stereotypes
Today, much of the stay-at-home father debate, especially in Christian circles, revolves around what is the "proper" place of men and women in a home.
"For much of history, men/husbands have typically gone out to provide for the family, while the women/wives were more likely to take leading roles in maintaining the immediate home, which included raising children," said a Centreville, Virginia, stay-at-home father of multiples, who requested his name not be used in this article. "Many people still hold the belief that a woman's place is in the home and a man should be the provider."
However, men—and women—are reframing that debate to focus more on the work being done both inside and outside the home. "I always say, and continue to say, that being a dad is a man's most important job," said Mark Merrill, author of All Pro Dad and president Family First in Tampa, Florida. "If you believe that premise, then you're going to take child rearing very seriously, whether you're at home full time with your kids or working in an office full time and coming home to your kids."
The old stereotypical father of one who works long hours and has little interaction with his family as a result has been replaced by a dad who's there for his kids. While this shift has had a very positive impact on children and families, the Christian community as a whole still grapples with what roles are best suited for men and women within a family.
With more flexibility in the workplace, more families are discovering new ways to fit work and childcare into their families. "The lines have been blurring for a while between office work and work at home," said Greg Berchelmann, who stays home with his five children in St. Louis. "More men—and women—are working from home, so there's a need for balancing both ends of things with work and raising children."
These men point out that by families having more options in which to parent—mom at home, dad at home or a combination of the two, for example—families can find the right fit for their circumstances. "Within each family, there can be seasons where mom works more outside the home and the dad works more inside the home," said Merrill. "In Scripture, we see men and women who had active roles in raising children at home, as well as instances of men and women who worked hard outside the home."
A Changing Future
The challenge for believers has always been ensuring our family situations serve our callings. "We need to keep our eyes on what God has to say about what the role of mother and father should be," said Merrill. "We need to remember that a good parent isn't determined by gender—a good parent is determined by the actions or inactions of that parent."
Have something to say about this article? Leave your comment via Facebook below!
advertise with us
Example: "Gen 1:1" "John 3" "Moses" "trust"
Advanced Search
Listen to Your Favorite Pastors