Summer Vacation: Beating the Traveling Blues
Sarah Hamaker, Crosswalk.com Contributing Writer
Monday, July 02, 2012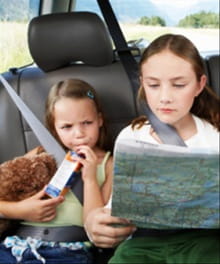 Thirty, 40 and even 50 years ago, parents piled the kids into the car for extended road trips during summer vacation and never overly worried about how their children would handle the travel time. Yet today, many parents seem overwhelmed by the thought of traveling any distance with children.
"I'm not sure parents thought nothing of piling the kids into the car, but I think they were not as anxious about what to do when the inevitable whining and sibling fighting occurred as today's parents are," adds Susan Davis Eppley, a parent coach.
Two summers ago, my husband and I encountered that mindset when we mentioned our trip to Maine, an 18-hour car ride from our Northern Virginia home. We broke the drive into two days. The most frequent question asked was, "How did you survive the car time?"
Our four children, who were 2, 3, 7 and 8 at the time, made the trip without any electronic devices—no DVD in the van, no handheld electronic games, no Angry Birds. Instead, each child had his or her own bag of in-car activities, including books, portable games, lace-ups, and a stuffed animal. With a minimal amount of fussing and fighting, we had a very pleasant drive to our destination and back home again.
With the summer travel season in full swing, you, too, can stop dreading the getting-to and going-home parts of your trip.
Vacation Missteps
While nobody can design a perfect getaway, a little planning and thought can help parents prevent a vacation derailment. "I think the biggest mistakes parents make is not communicating their expectations of behavior to their children," says Eppley. "Many parents believe they are at the mercy of their children's behavior, and therefore don't want to say or do anything to upset them. That fear allows the children to believe they are in the driver's seat (pun intended), and then the power struggle continues all the way to grandmother's house."
To counter that, parents should clearly state what is expected in relation to behavior while traveling. Remind the children of the car rules, such as keeping all body parts to yourself and no shouting. Pick two or three behaviors that absolutely need to be controlled in a confined space and relate those to the children.
Another mistake parents make relates to what the kids do in the car or on the plane. "I think the change is in our expectation of our kids and feeling like they shouldn't—or cannot—entertain themselves," says Susan Heid, who blogs about parenting at TheConfidentMom. "Today our kids are kept busy nearly every minute of the day, so to even think of putting a child in a car for any duration of time and expect that they can just enjoy the ride puts most parents into fear mode, expecting the worst."
That's Entertainment!
While it might seem easier to pop a DVD in to keep the kids quiet for the trip, reliance on electronic devices can rob a child of seeing the beauties around him and of interacting with the family. "When we rely on screen devices as our 'insurance' that our child will be entertained, it leads to a dependence on them every time your child rides in a car or airplane," says Heid. Instead, think outside the DVD or iPad box and use these easy and interactive ways to help kids stay busy in the car or on a plane.
Turn up the volume. "Audio books or stories and some kid-friendly music is a great way to create fun and interest. Listening to music still allows a child to observe the world around them," says Heid.
Author Melanie Dobson often travels with her husband and two daughters, using books on CD, such as the Chronicles of Narina or Magic Treehouse series to entertain. "I'm not a big fan of TV/videos in the car because I want them to be looking outside and talking to those around them, but I do enjoy listening to books on occasion," she says.
Have something to say about this article? Leave your comment via Facebook below!
advertise with us
Example: "Gen 1:1" "John 3" "Moses" "trust"
Advanced Search
Listen to Your Favorite Pastors