Five of the Best Gifts You Can Give Your Children
Rebecca Barlow Jordan
Friday, December 14, 2012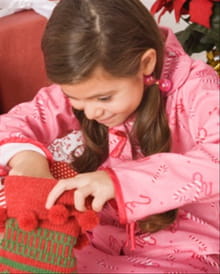 Which is more important? Washing feet or climbing ladders? Promoting ourselves? Or helping others? Relieving injustice or accumulating $$$? Do they believe in the "Hero or Zero" mandate? Or does servanthood, forgiveness and compassion top their most wanted traits?
I admit somewhere along the line God must have dropped showers of grace upon our home, because I didn't always "model" God's standard, even though it was my heart's desire to do so.
If you…know how to give good gifts to your children, how much more will your Father in heaven give good gifts to those who ask him! Matthew 7:11, NIV.
Every good and perfect gift is from above, coming down from the Father of the heavenly lights, who does not change like shifting shadows. James 1:17, NIV
4. Give them unconditional love.
Perhaps no other gift or quality is more God-like than this one. Jesus loved us so much He gave His life for us. And He didn't wait until we cleaned up our act or "behaved well" to decide we were worth loving (Romans 5:8).
In the same spirit, our children long to know that they are truly loved and accepted by us as their parents. They need to hear, see, know, and feel that no matter what they as kids do, we will love them without conditions. They may require "tough love" at times–just like God uses with us when we turn our backs on him. But the relationship is always there. And so is the love.
When they act out, do you discipline them because they embarrass you or make you angry? Or because you love them? They will sense the difference.
Do you speak your child's Love Language?
Knowing and understanding your child's love language is a great way to show that love practically. The Five Love Languages of Children, by Gary Chapman and Ross Campbell, is a good tool to help you. God knows how to give good gifts–the best gifts–to us because (1) He is God and (2) He knows us inside and out.
Tangible gifts may spell love to one child; time, to another. The words, "I love you," may bounce off our children's hearts without registering. But when we "speak" their language, or give our children the kind of gifts that fit their love language, they more readily receive it in a way that "feels" like genuine love.
As husband or wife, you can also give your children the gift of unconditional love by the way you love each other. The same kind of faithful love you show to your spouse is a built-in security wall that will make it easier for your children to receive that from you.
Our children can overlook many of our parenting mistakes if we will give them the gift of unconditional love–(sprinkled with ample helpings of grace) the kind that lasts from their birth, until our death.
5. Dress them in the right clothes.
You can't buy these clothes, and you can't force your children to put them on. But until they are old enough to dress themselves, you can make sure this clothing is available. After that, you can pray that they will choose "the full armor of God" daily. And you can model them yourself. The "right" clothes–the full armor of God–include the following "garments."
Finally, be strong in the Lord and in his mighty power. Put on the full armor of God…. Ephesians 6:10-11, NIV.
Have something to say about this article? Leave your comment via Facebook below!
advertise with us
Example: "Gen 1:1" "John 3" "Moses" "trust"
Advanced Search
Listen to Your Favorite Pastors