How a Spiritual Orphan Learned to Parent God's Way
Lori Hatcher, Author
Friday, January 03, 2014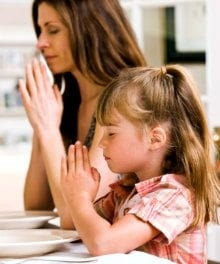 I was a spiritual orphan.
Born into a physical family, I grew up in a home that had the outward trappings of religion without the life-giving breath of inward conversion. Although my sisters and I were raised with a foundational belief in God, my parents had no spiritual well to draw from as they parented. During the Vietnam and Cold War eras of the 60's and 70's, modern psychologists like Benjamin Spock claimed to be experts in child rearing, and biblical parenting went the way of breast feeding and stay-at-home moms.
Psychology was in, and the Bible was out. The culture of the day, combined with the absence of a biblical foundation, meant my parents reared me solely on the basis of whatever sounded "right." As I became a teenager, their inability to offer me a standard for right and wrong meant they were limited to "feel good" reasoning that weakened even their best advice. They taught me it was wrong to steal because it was against the law, not because stealing defrauded someone and offended a holy God. They taught me to tell the truth because lying was wrong, but couldn't substantiate exactly what made it wrong. Without biblical morality, the best relational advice they could give was to wait until I was truly in love to have sex.
When I came to know Christ as my Savior the summer before my freshman year in college, one of the first evidences of spiritual life was my desire to read God's Word. It was natural then, after my husband and I married and began a family, to want to implement the truths and principles of scripture into our parenting. We envied friends who had strong, godly parents as role models. While we both had a fairly good idea of how we didn't want to parent, we lacked the knowledge of how to parent.
James 1:5 quickly became our parenting verse: "If any of you lacks wisdom, let him ask of God, who gives to all liberally and without reproach, and it will be given to him." God also led us to a foundational passage in Deuteronomy 11 that captures the essence of Christian parenting.
On the eve of entering the Promised Land, God through Moses issued this charge to the Israelites. Notice God is addressing parents as he says, "I do not speak with your children, who have not known and who have not seen the chastening of the Lord your God, his greatness and his mighty hand and his outstretched arm...but your eyes have seen every great act of the Lord" (emphasis mine).
God addressed adults who had seen God's mighty hand as he freed them from slavery in Egypt, parted the Red Sea, destroyed their enemies, and provided for them in the wilderness. He was talking to those who had experienced God's salvation. It was to these individuals that God offered instructions for biblical parenting. These timeless principles are equally valuable to parents today. His advice is threefold:
1. Love God.
2. Keep his commands.
3. Teach them to your children.
Godly Parenting Step #1 – Love God
"Therefore, you shall love the Lord your God..." (Deut. 11:1a).
The first step in godly parenting requires that we confirm our own relationship with God. Second Corinthians 13:5 encourages us to examine ourselves to see if we are in the faith. As in my own life, it is not enough to have been born into a moral family, been raised in church, or have made a profession of faith early in life. Second Corinthians 5:17 tells us, "if any (wo)man is in Christ, (s)he is a new creature." This means at the moment of salvation, a person begins to change and will continue to change (sanctification) throughout his/her life. A true believer should have a desire to read God's word, be with God's people, obey God's voice, and be a part of God's work. A believer has a sensitivity to sin and a desire to live a life that honors God. In order to be a godly parent, we must first have experienced genuine conversion.
Have something to say about this article? Leave your comment via Facebook below!
advertise with us
Example: "Gen 1:1" "John 3" "Moses" "trust"
Advanced Search
Listen to Your Favorite Pastors