"Mom...I'm Bored."
Tsh Oxenreider, Author
Friday, December 27, 2013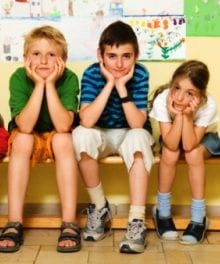 Scott Adams, creator of the comic strip Dilbert, once reported that his uneventful childhood gave him the necessary tools to be creative. "I make my living being creative and have always assumed that my potential was inherited from my parents. But for allowing my creativity to flourish, I have to credit the soul-crushing boredom of my childhood," he said.
He also pointed out the fact that it's not just children who have a hard time dealing with boredom. Adams said, "Lately I've started worrying that I'm not getting enough boredom in my life. If I'm watching TV, I can fast-forward through commercials. If I'm standing in line at the store, I can check email or play 'Angry Birds.' When I run on the treadmill, I listen to my iPod while reading the closed captions on the TV. I've eliminated boredom from my life."3
I may rarely feel bored, but how well do I cope with waiting in line, waiting on someone young to finish going to the bathroom, or generally not getting to spend my time the way I want? I don't think I'm bored, but maybe I am more than I realize. Entertainment, in all its forms, is so easily accessible in our technology-soaked culture; we can hardly imagine a life where it's not an arm's reach away. My immediate reaction to waiting in the carpool line is to check Instagram or my Facebook feed, or to pin stuff on Pinterest. It's to clog my fingers and brain cells with busyness, or at least the illusion of busyness. Like, like, like, pin, pin, pin. Keep busy.
My best ideas come when I space out. It's a cliché, but it's true; I really do have my greatest ideas in the shower. Kyle is no longer surprised when I pop out of the bathroom, towel still around my wet hair, and run over to the laptop to buy a domain name or two. I'm not even aware that I'm in search of another blog post or book idea or new online venture, and one will slam into my brain while I'm on the open road, mindlessly driving. I've come up with some parts of this book while sautéing carrots and onions for dinner.
Jonah Lehrer, author of the book Imagine, argues that science points to receiving more "aha!" moments when you're relaxed. Or bored.
So as a parent, it's good for me to remember that entertainment is not a right. It's a privilege—and often, depriving my children of this privilege is the best thing for them. But this is just as true for me; my brain needs ample time to stare off into space. Who knows what LEGO creation my kids will come up with, and who knows what next book idea I'll find waiting for me deep in the recesses of my bored subconscious?
Endnotes:
1. Wikipedia, s.v. "acedia," http://en.wikipedia.org/wiki/Acedia.
2. Michael Ungar, "Let Kids Be Bored (Occasionally)," Nurturing Resilience (a blog from Psychology Today), June 4, 2012, http://www.psychologytoday.com/blog/nurturing-resilience/201206/let-kids-be-bored-occasionally.
3. Scott Adams, "The Heady Thrill of Having Nothing to Do," Wall Street Journal, August 6, 2011, http://online.wsj.com/article/SB10001424053111903454504576486412642177904.html#articleTabs=article.
4. "Jonah Lehrer examines dangerous creativity myths and the history of innovation," The Colbert Report (video), April 17, 2012, http://www.colbertnation.com/the-colbert-report-videos/412742/april-17-2012/jonah-lehrer
Excerpt taken from Notes from a Blue Bike. Used with permission.
Tsh Oxenreider is the founder and main voice behind TheArtofSimple.net (formerlySimpleMom.net). She's the author of Organized Simplicity, One Bite at a Time, and the much-anticipated Notes from a Blue Bike. Tsh is also main host of The Simple Mom Podcast, regular contributor to incourage.me, and an advocate for Compassion International. A graduate of the University of Texas, Tsh currently lives in Bend Oregon, with her family.
Publication date: December 27, 2013
Have something to say about this article? Leave your comment via Facebook below!
advertise with us
Example: "Gen 1:1" "John 3" "Moses" "trust"
Advanced Search
Listen to Your Favorite Pastors