The Cost of Loving
Linda Rondeau, Crosswalk.com Contributing Writer
Tuesday, October 02, 2012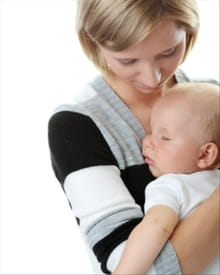 Editor's note: This story is true. However, some details have been changed to protect the privacy of those involved.
Lisa grabbed Dave's white hankie conveniently located on the couch. On any other day, she would confront his slovenliness. Today she was grateful for the soiled linen as she wiped away the steady stream of tears from her eyes.
She reached for another cardboard box to finish packing Ashleigh's belongings. She arranged the assortment of musical toys and stuffed animals, subconsciously picking up a white velvet Teddy Bear, squeezing it tightly against her chest.
It had been a year since Ashleigh came to live with them. Six years previously, Lisa and Dave felt a call from God to become foster parents. Lisa always wanted a big family; but after years of waiting, tests, and unanswered prayer, she faced the possibility she might never conceive.
Lisa knew that God had a different plan. Before she and Dave were married and moved to the city, she worked for a foster care agency. She knew the urgent need for loving homes in which neglected children could find a nurturing environment. Dave readily supported the idea, prayerfully promising to adopt any of the children in their care should the opportunity arise. After months of specialized training, Lisa and Dave eagerly awaited the first placement.
Baby Michael arrived within a few months. Lisa was thrilled by the joy of holding a tiny one close to her heart. He was their son, no matter how long God allowed him to stay. Lisa found contentment in the hectic, busy days an infant's needs dictated. A few years later, Cecil arrived. Although he was classified a special needs child, their love expanded to meet the challenges.
Within a few months, one-year-old Darren entered the home already squeezed by demanding schedules. He was welcomed just the same. They were told from the beginning that Darren would most likely return to his mother. Lisa and Dave respected the close bond between Darren and his birth mother, doing all they could to help preserve the relationship. Knowing from the start Darren would not be a permanent member of the household did not prepare them for the indescribable wrenching when the social worker took him away.
Soon after Darren left, Lisa and Dave received an urgent call from the foster care agency. They had a little boy, age 2, in need of a permanent home. The boy, James, had been in care since birth and was now released for adoption. Lisa felt urged by the Spirit to examine the possibility. Her previously childless home now bulged with toddlers. Michael's adoption was finalized, and it appeared they would also adopt Cecil in the near future. They loved James the minute they first saw the affectionate, loving youngster.
Diaper changing, household chores, meal preparation, cleanups, home schooling Michael, and discipline needs dominated days and nights. Yet, Lisa felt a longing for a little girl. She was grateful for the three wonderful boys God entrusted to them but could not extinguish this unrelenting desire for a daughter.
Within a few weeks of James' final transition into the home, six-month-old Ashleigh came into their care. Lisa and Dave fell in love with her gurgles and wide-eyed grins the minute she arrived. They relished in her spunk, curiosity, and good nature as she crawled behind her big brothers, following them from room to room, and getting into the act when Daddy played roughhouse. Her presence seemed as natural as the sunrise. Lisa never considered the confusion created by two family additions within a month a burden. She refused to entertain any thoughts of when or if Ashleigh would return to her birth mother. Echoes of the pain she felt when Darren left where stifled by the pleasure she found in Ashleigh's antics.
Have something to say about this article? Leave your comment via Facebook below!
advertise with us
Example: "Gen 1:1" "John 3" "Moses" "trust"
Advanced Search
Listen to Your Favorite Pastors