Unstructured Play (and Why Your Kids Need More of It This Summer)
Madeline Levine, PhD, Educator
Friday, July 26, 2013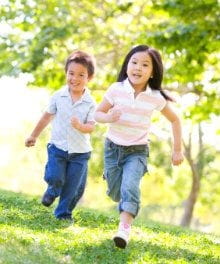 If you're like many parents, your child's summer may already be booked up with "enriching activities." Maybe you're shipping him off to a rigorous math or computer camp designed to give him an academic edge. Or perhaps she'll be living at home but attending an educational day camp or an intensive sports camp. At the very least you're using the break from school to double up on her (already daunting) schedule of gymnastics and dance classes, supplemented with an ambitious summer reading list.
When will your child have time to play? Just…play?
It's too bad that the old-fashioned notion of summer as endless free time—to climb trees, chase fireflies, build a fort in the woods, maybe set up a lemonade stand—has fallen by the wayside. This is what kids need—they need it far more than they need a high-priced summer camp or some other program aimed at cramming a little bit more learning into their exhausted brains.
Play is serious business. We tend to see it as wasted time, but it's actually anything but. Play is the work of childhood. It's a classroom in which children develop a whole set of skills that really matter in life. Indeed, research shows that children who attend play-based preschools, as opposed to academic preschools, do significantly better in school down the line.
David Elkind, one of the country's most knowledgeable (and beloved) experts on child development, says that "play is essential to positive human development." He recognizes that there are different types of play: play that teaches children concepts and skills, play that initiates children into the world of peer relations, and play that helps kids develop strategies for dealing with stress.
What these variations on play have in common is that they are self-initiated and self-directed—the playing child is calling the shots.
If a child goes into his room and strums on his guitar because he loves it, that's play. When an instructor comes into the picture and starts "teaching guitar," the child may enjoy the experience but he's no longer playing.
The American Academy of Pediatrics (AAP) recommends that children play outside as much as possible, for at least 60 minutes a day. Unfortunately, almost half of our children aren't getting any time outside. Sending kids outside to play more often would not only go a long way toward combating our childhood obesity problem (read AAP abstract on this subject here), it would simultaneously allow kids to enjoy more unstructured play. Most experts agree that kids should have twice as much unstructured free time as structured playtime. Every child is different, but as Ken Ginsburg, MD, a leading expert on resilience, says, "What every child needs is free, unscheduled time to master his or her environment."
If you really want to up the ante, consider that tomorrow's adults may need the skills developed by play—innovation, collaboration, problem solving, and so forth—more than any other generation before. The global economy demands them. This makes it even more ironic that time for free, unstructured, self-directed play is at an all-time low.
So what, exactly, is it that makes play so valuable?
It miniaturizes the world so that kids can deal with it. Play primes children for learning. Toddlers, for instance, love to climb up and down stairs. This allows practice in reading visual cues—i.e., the height of each stair—that plain-old walking doesn't provide. School-age children play games that have rules, which initiate them into the social institutions they'll live and work in all their lives.
Have something to say about this article? Leave your comment via Facebook below!
advertise with us
Example: "Gen 1:1" "John 3" "Moses" "trust"
Advanced Search
Listen to Your Favorite Pastors