Lead Your Adult Children Back to Christ
Whitney Hopler, Crosswalk.com Contributor
Friday, March 23, 2012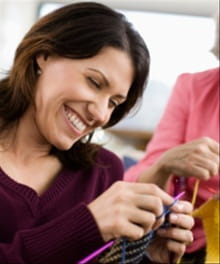 Adapted from When They Turn Away: Drawing Your Adult Child Back to Christ, copyright 2011 by Rob Rienow. Published by Kregel Publications, Grand Rapids, Mich., www.kregel.com.
If you've suffered the pain of seeing one or more of your adult children leave the faith, you may feel as if there's nothing you can do to lead them back to Christ now that they're no longer living with you. But it's never too late to help your kids re-connect with Christ. No matter what's happened in your children's relationships with Christ and with you, healing and reconciliation are possible.
Here's how you can lead your adult children back to Christ:
Set a goal and commit to doing all you can to reaching it. Aim for helping your adult kids love God with all of their hearts, put their full faith and trust in Christ for both their present and their future, and arrive in heaven to join you someday. Keep that goal in mind often as you work to encourage faith in your kids.
Offer your heart to Christ. You must get your own heart right with Christ before you can lead your adult kids back to Him, since you can't lead your kids in a direction that you're not going yourself. Keep in mind that you don't have to be perfect; you simply have to make your relationship with Christ your top priority and keep growing closer to Him. Accept the fact that you're partially responsible for your adult children's current alienation from Christ, because the way you raised them impacted them spiritually. But don't wallow in guilt and shame over your mistakes; no parent is perfect. Instead, go to God in prayer and confess what you said and did wrong while raising your kids. Repent of your sins by committing to turn away from them moving forward. Then accept the complete forgiveness that God offers you, and be confident that there's real hope for you and your kids to enjoy close relationships with Christ in the future.
Turn your heart toward your kids. Ask God to give you a compassionate heart toward your adult children so you can relate to them without judging and criticizing them. Recognize that your kids are being attacked every day by evil forces in the spiritual realm who want to keep your kids away from Christ. So pray for your children often, and ask God to help you see them through His eyes as you intercede in prayer for them.
Forgive and apologize. Your children have hurt you, and you've hurt your children, through some of what you all have said and done to each other in the past. But don't allow bitterness to poison your relationships with God and each other. Realize that you won't be able to lead your kids back to Christ if you don't follow His command to forgive and apologize. Remember that God has forgiven you of many sins. So forgive your kids, as an act of your will, despite your feelings. As you rely on God's power to help you through the forgiveness process, your feelings will gradually change. Acknowledge the specific mistakes you've made relating to your kids, and ask them to forgive you. Whenever your children are willing, pursue reconciliation in your relationships. Take the first step to try to reconcile with them.
Draw your children's hearts to yours. Ask God to help you connect with your adult kids in new ways. Pray for the courage you need to spend more time with them and speak the truth in love to them. Keep in mind that you still have plenty of power to influence your children's faith, even though they're adults, but your influence will flow into their lives only through a warm heart connection with them. So do everything you can to develop a warm relationship with your kids.
Rebuild the relationship bridges between you and your kids. Talk honestly with your adult children about the fears and anxieties you struggle with when you try to discuss spirituality with them, and encourage them to share their own fears and anxieties about talking about faith with you. Ask your kids to tell you whether they truly feel loved by you, or whether they know intellectually that you probably love them, but they don't actually feel your love. If your children give you hard answers, thank them for their honesty and ask God to help you make the changes you need to make to successfully communicate your love to your kids. Keep in mind when relating to your children that it's important to speak with gentleness to daughters and to speak with respect to sons, so they can truly feel loved. Work on listening to your kids more than talking to them, seeking to understand them before seeking to be understood yourself.
Have something to say about this article? Leave your comment via Facebook below!
advertise with us
Example: "Gen 1:1" "John 3" "Moses" "trust"
Advanced Search
Listen to Your Favorite Pastors