Mom, Meet Your Own Needs While Caring for Your Family
Whitney Hopler, Live It Editor
Friday, February 04, 2005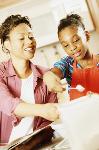 Motherhood is an intense job that demands lots of time and energy and doesn't offer time off.  But the best moms are those who are healthy - and to be healthy, moms need to take care of their own needs while also caring for their families.
It is possible to meet your own needs as a mom during the pockets of time you have available each day.  Doing so is the best thing for you, and also for your family.
Here are some ways you can meet your own needs while caring for your family:
• Meet your need for solitude. Intentionally withdraw from life's chaos on a regular basis. Know that solitude is essential for good health; not a selfish luxury. Schedule time to be alone in a silent environment as frequently as you can, even if only for a brief while.

Use the time to clear your thoughts and regain your focus on what's most important. Guard your times of solitude as you would any other type of appointment. Work with your spouse, family members and friends to arrange child care, or seek solitude while your children are asleep. Designate a favorite place - somewhere in your house or yard, a bookstore, a park, a coffee shop - to go to enjoy solitude. Consider spending part of your solitude time in prayer or writing in a journal.
• Meet your need for friendship. Don't put friendships on hold while you try to keep up with your responsibilities as a mom. Realize that you need friends, and that the time you invest in your friendships will pay off by helping you grow as a person in all the roles you play (including motherhood).

Select your friends prayerfully and carefully since you only have the time to build close relationships with a limited number of women. Be a good friend yourself by offering practical support and encouragement to your friends. Recognize when a friendship is unhealthy and have the courage to let it go so it doesn't drag you down. Know that Jesus is the best friend of all.
• Meet your need for balance. Realize that there's a time for everything - just not all at once. Use your power to decide what activities are best for you and your family. Identify your priorities and make decisions around them. Strive to create an evenness in your life.

Don't try to do more than you're capable of or compare yourself to other moms. Learn how to say "no" to requests for your time and energy that don't line up with your priorities. When considering a new activity, ask yourself what you can let go of to make room for a new obligation (then let go of the old before committing to anything new). Remember that God loves you for who you are, regardless of what you do. Observe a weekly Sabbath day of worship and rest.
• Meet your need for physical well-being. Don't use your kids as an excuse not to exercise. Realize that they should be the reason you do exercise. Put together a realistic plan to get exercise on a regular basis. Focus on what you can do instead of on what you can't do. Take it a little at a time, working up to greater fitness. Remind yourself of exercise's many benefits: more energy, a more positive attitude, less time sick, etc.

Remember that, with exercise, a little goes a long way and something is better than nothing. Join a gym, play a team sport, or find a workout buddy to help keep you accountable if you don't like to exercise alone. Include your younger children in your workouts by pushing them in a stroller or wagon. Have older children join you hiking, swimming, playing tennis, etc.

Eat a nutritious diet. Drink water regularly throughout each day. Balance your physical activity with plenty of rest. Sleep as much as you need to at night, and refresh yourself with a 20-minute nap in the afternoon.
Have something to say about this article? Leave your comment via Facebook below!
advertise with us
Example: "Gen 1:1" "John 3" "Moses" "trust"
Advanced Search
Listen to Your Favorite Pastors