Organize to Thrive as a Mom at Home
Whitney Hopler, Contributing Writer
Wednesday, January 03, 2007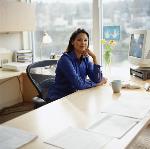 Editor's Note: The following is a report on the practical applications of Cindy Sigler Dagnan's book, Who Got Peanut Butter on My Daily Planner?: Organizing and Loving Your Days as a Mom, (Harvest House, 2006).

As a mom, you want to give your best to your kids – but you don't want to lose yourself in the process. Staying home with your kids doesn't have to be an ordeal to endure; it can be an adventure to love if you organize your life wisely.
Here's how you can organize your life so you can best enjoy motherhood at home:
Recognize the importance of your job. Know that your efforts as a mom are vitally important to your kids and will shape their lives in crucial ways. Understand that no other type of work you can do is more significant than parenting. Realize that no one else can raise your kids as well as you and their dad can. Take heart that all the sacrifices you need to make to stay home with your kids are worthwhile.
Aim to be productive. Realize that, as demanding as your parenting duties are, you can actually accomplish a lot beyond parenting while you're home with your kids. Make time regularly to work toward other goals, such as learning a new skill, exercising, reading, and doing volunteer service projects.
Get out of the house regularly. Give yourself the gift of a change of scenery as often as you can. Take the kids to a library, park, museum or other place to give both them and yourself relief from cabin fever.
Establish and maintain friendships. Get together with other women frequently to support and encourage each other.
Cultivate a sense of humor. Look for creative ways to have fun with your kids and truly enjoy your time with them. Try to laugh frequently. Whenever you confront stressful situations, look for the humor in them to help you relax.
Pray often. Talk with God regularly about your thoughts and feelings. Intercede for others who need prayer. Make a prayer a habit to model faith in action to your kids.
Put situations in perspective. Make a list of everything that's currently causing you stress. Then consider each situation on your list, asking yourself whether or not it will matter to you tomorrow, next week, in one year, or in five years. Turn your worries into prayers and ask God to take control of each situation that's troubling you. Ask Him to give you His perspective on all you're facing so you're not stressed unnecessarily.
Plan well. Understand that if you don't plan your days, circumstances will end up planning them for you. Every night, draw up an action plan for the next day. Build your plan around your priorities so you'll spend your time and energy doing what most helps you fulfill God's purposes for your life. As you write your list of things to do, build in extra time in between tasks to account for interruptions and other unexpected demands that will inevitably come your way. Consider what you might eliminate from your to-do list every time you add something new.
Use time well. Turn downtime (such as time spent waiting in lines or in traffic) into productive time by keeping supplies like and a pen and paper and a magazine with you at all times so you can write notes or read whenever pockets of time open up for you. Exercise regularly and get eight hours of sleep each night to boost your energy. Do your shopping at odd hours to avoid crowds. Group your errands together to get several tasks accomplished in just one trip. If possible, delegate some of your chores and errands to others. Don't hesitate to say "no" to people who ask you to do something you can't do your best on right now. Accept your limitations. Just do your best to focus on your priorities and trust that everything else will fall into place. Be flexible. Recognize that people are more important than things, schedules, or deadlines. Remind yourself of your blessings often, thank God for them, and continue to rely on God's strength to help you with whatever you need.
Have something to say about this article? Leave your comment via Facebook below!
advertise with us
Example: "Gen 1:1" "John 3" "Moses" "trust"
Advanced Search
Listen to Your Favorite Pastors