Parenting Adult Children: Six Steps to Sanity
Allison Bottke, Author, Setting Boundaries With Your Adult Children
Tuesday, August 04, 2009
A = Assemble a support group. Stop by our SANITY support group website (visit http://www.settingboundaries.com/ and follow the links) and consider getting involved. Remember, there is strength in numbers!
N = Nip excuses in the bud. You must no longer accept excuses. Period. Make it evident early on that you have no intention of being swayed by clichés or con games or lame excuses.
I = Implement rules and boundaries. These rules and boundaries must be well thought-out and non-negotiable, with firm but reasonable consequences and timeframes. And they must be written down and included in your action plan.
T = Trust your instincts. Nowhere does the need to trust our instincts hold truer than when we suspect our adult children are on drugs, have alcohol problems, or are involved in illegal activity. Intuition is a powerful tool. However, that still small voice will eventually stop talking altogether if we continue to ignore it.
Y = Yield everything to God (let go and let God). For some parents perhaps religious faith hasn't been much of an issue as you brought up your child. But that's one thing about being a parent in pain—you realize the help you need is going to have to come from some source other than self.
As we begin to follow the six steps to SANITY, we often discover that one of the benefits could be that our adult child may actually become the person we've been pretending they were or dreaming they could be all along. Now, wouldn't that make all the tough-love pain worthwhile?
It doesn't matter where you are in your journey of enabling an adult child. What matters is that you can stop the insanity right now—today—this very minute. You can gain SANITY, and in doing so, begin an amazing adventure of self-discovery.
I have walked in your shoes, and I have discovered the secret of SANITY, that no matter what happens, I am never alone. God is in control.
August 10, 2009
Next Time: It's Time to Change!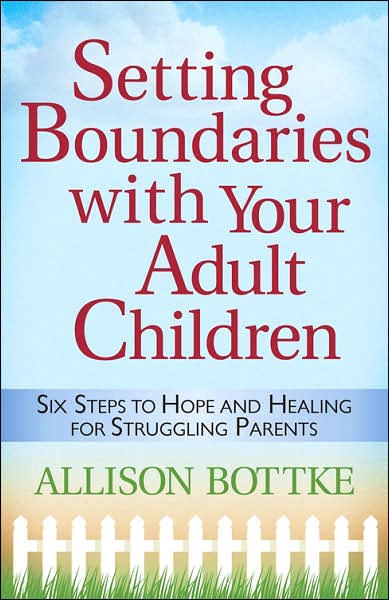 If you're a hurting parent who dearly loves your adult child but longs to see him at last take responsibility for his life, please take a moment to watch the videos on the audio/video page of our web site. It could save your sanity—and maybe even your adult child's life. Video clip at:
http://www.settingboundaries.com/audio-and-video/
---
Adapted from
Setting Boundaries with Your Adult Children, Six Steps to Hope and Healing
by Allison Bottke © 2008. Harvest House Publishers. All rights reserved. Visit
www.SettingBoundaries.com
Have something to say about this article? Leave your comment via Facebook below!
advertise with us
Example: "Gen 1:1" "John 3" "Moses" "trust"
Advanced Search
Listen to Your Favorite Pastors