Parents vs. Public Schools: Who Should Teach Kids About Sex?
Al Mohler, President, The Southern Baptist Theological Seminary
Monday, November 07, 2005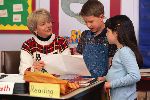 Who decides what children will be taught about sex? The Ninth Circuit Court of Appeals served notice on America's parents this week, ruling that parents of elementary-aged school children have no right to be the "exclusive providers" of sex information to their children.
The Ninth Circuit is generally considered to be America's most left-wing court. Nevertheless, the decision handed down on November 2 represents one of the most outrageous infringements upon parental rights ever made by an American court.
The case originated in California, where a group of parents filed suit against the Palmdale School District because their elementary-aged children had been asked questions about sexual topics without parental notification or control. In its decision, the court simply told the parents they had no right to complain.
The case was sparked by a survey the Palmdale School District had conducted in order, school officials said, to evaluate psychological barriers to learning. The schools had used volunteer mental health counselors to develop and administer a psychological assessment questionnaire for children in the first, third, and fifth grades. According to the district, the goal was to "establish a community baseline measure of children's exposure to early trauma." Parents had been sent a consent letter which did not explicitly mention that any question would involve sexual topics. The parents discovered the sexual content of the questionnaire when their young children came home troubled by the experience.
Most parents would be shocked to know that these first, third, and fifth graders had been asked to evaluate whether they have been traumatized by, for example, "touching my private parts too much." The survey also asked the children their feelings about thoughts related to "touching other people's private parts," "thinking about sex when I don't want to," "having sex feelings in my body," and "getting upset when people talk about sex." We can be fairly confident that most parents would be upset when people talk about sex with their young children.
After all, how many first graders have any concept of sex? Most parents would see these young children as needing protection from the very knowledge of sex, much less the intrusion of questions related to their own sexual feelings and perceptions.
The parents sued the School District contending that the right to "determine when and how their children are exposed to sexually explicit subject matter" is a fundamental due process right. They argued that, as the children's parents, they have a fundamental right "to control the upbringing of their children by introducing them to matters of and relating to sex in accordance with their personal and religious values and beliefs."
When the case was appealed to the Ninth Circuit, the three-judge panel dealt the parents a serious blow. The court's written decision, written by Judge Stephen Reinhardt, declared that "the right of parents to make decisions concerning the care, custody, and control of their children is not without limitations."
Judge Reinhardt went on to argue that the federal courts "have upheld the constitutionality of school programs that educate children in sexuality and health."
What about the rights of parents? Judge Reinhardt, citing a precedent from the First Circuit, simply declared that "once parents make the choice as to which school their children will attend, their fundamental right to control the education of their children is, at the least, substantially diminished."
This is an incredible statement. America's parents are now being told that, if they choose to educate their children in the public schools, they forfeit any fundamental right to control the education of their own children. The right of parents to control the education of their children "does not extend beyond the threshold of the school door," the judge stated. Why were these children asked about sex in the first place? The School District claimed that the children were asked these questions in order to measure their exposure to early trauma. Most parents would undoubtedly see this as an unwarranted and harmful intrusion--an abuse of state power that robbed their children of innocence and security. Nevertheless, Judge Reinhardt declared that the survey was part of "a legitimate educational objective."
Have something to say about this article? Leave your comment via Facebook below!
advertise with us
Example: "Gen 1:1" "John 3" "Moses" "trust"
Advanced Search
Listen to Your Favorite Pastors