Part 3: What Moms Today Can Learn From The Mother of Jesus
Eva Marie Everson
Friday, December 20, 2002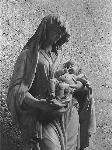 Did you know, when God sees the story of your child's life, He has a vision of their birth, childhood, adolescent years, adult years and final "homecoming?" Think about that. 
Just as you, upon cradling your child for the first time may have pictured the day he or she graduated from Harvard or walked down the aisle enveloped in a puff of white on her father's arm, God saw "The Big Picture" from start to finish. 
You can't. You can only imagine. But God sees all....
It was no different when Mary gave birth to Jesus. Though upon hearing of His coming, she recited the beautiful prayer we now call the Magnificat (Luke 1: 46-55) in which she declared the glorious works of the Lord through her, in her, in Israel, and in those who trust Him, she truly had no idea where this whole thing would lead her.
Nearly nine months later, when she was about to pop in childbirth, and her husband came home one afternoon after a hard day's labor in his carpenter's shop (I'm speculating, of course) to tell her that Caesar Augustus had declared that each man should return to his "own town" to be registered in the census, Mary might have wondered what in the world the Lord was thinking. 
As an author (and gal born with quite the imagination!) I can just hear their conversation.
"Joseph," Mary might have said (though she may have just called him "Joe"), "Has it escaped your attention that I'm nine months pregnant? It just doesn't make sense that God would allow a census to be taken at this time of all times and that we would have go head off to Bethlehem. I mean, what if there's no room in the inn?"
Okay. So maybe that's not exactly how it happened, but as mothers who have given birth we can be sure that when the time to deliver the baby has come, you always think long and hard about so much as heading off to the grocery store for a loaf of bread. Yet here Mary was, with Joseph, heading off the a city whose name means, "House of Bread."
Interesting.
I gave birth in the sterile surroundings of a hospital's Labor & Delivery unit.  My best friend stood at my head and encouraged me (my husband went into temporary paralysis at the doorway to the labor room, but I could see his startled face through the little window of one of the doors), two nurses busied themselves with the fine details of delivery, and my trusty OB physician made some jokes with me (we were known for that), assuring me that "we're almost done, now."
As soon as I pushed life from my body, my baby was taken from the doctor, attended to by the nurse, placed in a warm incubator and wheeled close enough so that I could touch her; to let her know that so far life seemed pretty alarming, but I would always be there with her. 
Have something to say about this article? Leave your comment via Facebook below!
advertise with us
Example: "Gen 1:1" "John 3" "Moses" "trust"
Advanced Search
Listen to Your Favorite Pastors