Part 3: What Moms Today Can Learn From The Mother of Jesus
Eva Marie Everson
Friday, December 20, 2002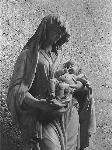 I can hear Mary saying, "Son. You're taking on way too much. Are you eating well? Do you get enough sleep? Have you taken your vitamins?" The brothers, who did not believe He was the Messiah (John 7:5), might have wanted to whisper harsh words of "Why don't you go home and stop raising a ruckus...get us all killed! What are you thinking, brother?"
They didn't see the Big Picture.
This past summer I told my mother I would be traveling to Israel for 10 days as a journalist. I thought we'd have to do CPR on the poor woman. In her mind, she could only see her "little girl," heading off to a country that was under a siege of "terror." (Turned out to be quite peaceful, by the way.) She couldn't know what God had in mind for "HIS daughter" while she was there, couldn't grasp what events would occur in my life and to my heart that would change me forever. 
I imagine it was the same way when, as a teenager, I rebelled to the nth degree.  My mother couldn't see what God had in mind for the rest of my life...couldn't envision the finished product.
Subsequently, when my own daughter became a "rebel without a cause," I had a difficult time "seeing the Big Picture." One morning, as I prayed to the very same Jesus who might have been called a "Rebel With a Cause," I felt the Holy Spirit whisper in my heart, "Wait till you see the anointing I have poured over her life."
Mary eventually saw the Big Picture as she witnessed the death, burial, and resurrection of her Son. She witnessed the coming of the Holy Spirit and the early years of the church, and by then was able to step back and marvel at the role she'd played in the Artist's hand.
I asked a few artsy friends of mine to tell me about the process of a painting--bringing it from idea to finished product. I received the following notes:
I start [with] basic forms. I always finish with detail.

I work from the inside out.

When I paint a picture, it is usually replicating something.

If doing a portrait one usually begins with the eyes. Gradually you add color, shadows (dimension) and highlights until you are satisfied.
Now think about these things as they pertain to the Supreme Artist. When you pray for your child, mothers, remember that, like Mary, you won't always be able to see the Big Picture. But God does.

He sees the final product of His intentions, His will for your son or daughter. He already knows the outcome...already sees the Big Picture. You can trust Him, therefore, with His answer, His timing, and the artistry of work in your child's life.
Eva Marie Everson is the author of Shadow of Dreams & Summon the

Shadows and an award-winning national speaker. She can be contacted for comments or speaking engagement bookings at Bridegroomsbride@aol.com or you can go to www.evamarieeverson.com
Have something to say about this article? Leave your comment via Facebook below!
advertise with us
Example: "Gen 1:1" "John 3" "Moses" "trust"
Advanced Search
Listen to Your Favorite Pastors