Back to School: How to Stop the Cycle of Bullying
Paul Coughlin, Contributing Writer, Author, Speaker
Tuesday, August 30, 2011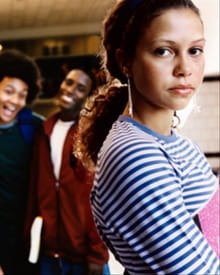 Q: What are kids supposed to do in instances of cyber bullying?
A: Targets should document every incident. This doesn't mean they should act upon every case of cyber bullying. But if they do plan to act, they will be better able to prove a pattern of predatory behavior against them. It is usually best for targets not to respond to cyber bullying.
Bystanders should treat cyber bullying the same way they should treat face-to-face bullying. They should stand against it. Imagine if two or three people saw a classmate being bullied on Facebook and they intervened with assertive but non-violent words such as, "That's wrong. Leave her alone." Bullies aren't planning on dealing with multiple people. They are likely to stop what they're doing.
Q: What can parents do to help?
A: Parents of targets should document every incident of bullying and explain to their child that this doesn't mean that we're going to act upon every example. It just means that in the future, if we do plan to act, that we will have a much stronger case. They need to explain that there might come a time for action, and that their child will have a say in that decision. This will help their child feel less apprehensive.
Parents of targets should help their child learn how to appear stronger through assertive body language and words. Sometimes this will mean that their children will need to learn how to "Fake it till they make it." The Protectors can show them how.
Some targets have few if any friends. If this is the case, help your child forge more friendships, which could mean making your home a more kid-friendly place where kids want to come and hang out.
They also need to find out if their child is what we call a "provocative target." This means that how they behave provokes their classmates. It doesn't justify the bullying, but it does help put the behavior into context. For example, I know a girl who would correct her classmates' grammar when they spoke out loud in class. This provocative behavior angered some of her classmates, who in turn bullied her.
If you suspect this is the case with your child, meet with his or her teacher(s) and ask. Then--and this is very important--don't argue. Take the information to heart and help your child avoid this behavior in the future.
Paul Coughlin is the author of numerous books, including Unleashing Courageous Faith, No More Christian Nice Guy and No More Jellyfish, Chickens or Wimps. He also co-authored a book for married couples with his wife Sandy, titled Married But Not Engaged. Paul is founder of The Protectors, the values-based and faith-based answer to adolescent bullying, which provides curriculum for public schools, private schools, retreats, and individuals who want to diminish child-based bullying.
Visit Paul's websites at: http://www.theprotectors.org and http://www.paulcoughlin.net.
Visit Sandy's website for reluctant entertainers at: http://www.reluctantentertainer.com
Have something to say about this article? Leave your comment via Facebook below!
advertise with us
Example: "Gen 1:1" "John 3" "Moses" "trust"
Advanced Search
Listen to Your Favorite Pastors