Protecting Your Teen from Today's Wicca
Sarah Jennings, Family Editor
Wednesday, November 16, 2005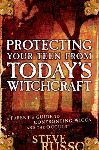 Wicca's also making a fashion trend statement. You can now buy "Goddess style" clothes. Or maybe you'd be interested in the "Earth Goddess" collection of cosmetics. There are even "potions" fragrances showing up in some of the hipper stores. It's just one more message that endorses Wicca.
There's over a million web listings for Wicca on Google. Internet resources on witchcraft are growing daily by the thousands. You can even take classes about Wicca online. The Internet may be the source that has introduced more teens to Wicca than anything else.
Why does it appeal to teens? Four key words – freedom, control, power and experience. It's the "whatever" religion that works perfectly in our relative truth culture. Teens like the freedom that Wicca offers to worship whom ever they choose. They also like the idea of being able to control everything about their life – including their destiny. Then comes the issue of power – a lot of teens are looking for it. They want power to help them feel special, power over their circumstances and sometimes power to get vengeance over those who've hurt them. Wicca is also a very experiential religion.
Crosswalk: It's tempting to assume the attraction to Wicca is exclusive to kids raised in non-Christian homes. Is there really a genuine concern for Christian parents here?
Russo: I'm convinced that Wicca is the sleeping giant in the church today. Christian parents have good reason to be cautiously concerned about the spiritual well-being of their teens.
I spend a number of weeks each year speaking on public school campuses. My assembly program focuses on "Choices" – both ones that teens are making today and how to make 'better ones.' After almost every assembly I end up talking with students about Wicca. At one particular school, I had two girls and a guy come up to me to talk. "Russo, we want you to know that we used to be Christians, but now we're Wiccans." I asked them 'why.' "We went to church and couldn't find anyone who could tell us what they believed, why they believed it and they were all living powerless lives. So we became Wiccans."
Unfortunately, when you look at a lot of churches today, I don't think these teens are that far off. Teens want spiritual answers, but they're not finding them in many of our churches. We need to help them connect their needs and the answers that can only be found in a relationship with Christ.
Crosswalk: Do you think cultural and entertainment influences – like Harry Potter or Sabrina the Teenage Witch – have any lasting negative effects on kids?
Russo: Absolutely. Am I trying to say that if a teen reads a Harry Potter book or watches Sabrina the Teenage Witch, they will get involved in witchcraft or the occult? No. But I am saying that it just could be a doorway into Wicca. A book, TV show or a game by itself can't make you kill someone or commit a violent act, but it can influence your thinking and desensitize you to certain things. Teens must constantly be on their guard.
Crosswalk: What are some preventative measures parents can take to protect their kids from getting involved with Wicca or the occult?
Russo: 1. Show your Teen the way to Jesus. The first and the most important step in protecting your teen from the influence of witchcraft and the occult to help them establish a personal relationship with Jesus Christ.
2. Cultivate a Spiritually Healthy Family. Our teens need to understand that Jesus is always with us (individually and as a family) and wants to be intimately involved in our day-to-day life. A spiritually healthy family is one where Jesus is at the center – at the very core. Just as the planets revolve around the Sun, so should our family around Jesus.
Have something to say about this article? Leave your comment via Facebook below!
advertise with us
Example: "Gen 1:1" "John 3" "Moses" "trust"
Advanced Search
Listen to Your Favorite Pastors