Raising Kids to be Christ-like Servants
Dr. Michelle Anthony, Author, Spiritual Parenting
Wednesday, August 03, 2011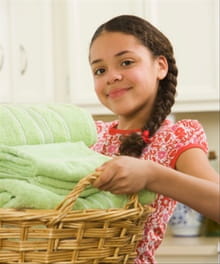 We drove past a little café. I had been there only once, but I remembered the owner, an older woman who worked very hard to keep it going. I wanted to stop and just say hi to her. We prayed, "Lord, here's a woman, here's a café, what needs to be done?" So we walked in and asked her if there was anything we could do for her. We mentioned that we could clean her bathrooms or wash her dishes. She just looked at us as if we were insane. At first she asked if we were in need of a free meal or something. She spoke in broken English with a beautiful Spanish cadence.
In my best Spanglish, I tried to say, "We just came to serve you. We figured that this would be a busy time for you. It's right after lunch. You probably have a lot of dishes." She smiled—and with that she handed us a mop, a towel, and some soap. Off my "family" went, serving. Two of us went into the kitchen and started washing dishes. The other two got mops and gloves and started cleaning toilets and bathrooms. Finally, she came up to me and asked, "Tell me, why are you here?"
I told her that we worked at the church a couple of doors down and that we were asking God to send us where we could go and be of service in our community today. And we felt like God just led us over here to be with her. The woman burst into tears. She began to share her story: "I'm a single mom, and it has always been my dream to own my own restaurant, but it hasn't been going well, and in fact, the landlord is coming in today to get the keys from me. Today is my last day."
She continued, "I woke up this morning, and I started praying. I haven't prayed in many years. I was crying out to God that I needed to have some hope, and I asked Him, would He please send an angel or a messenger? Would He send some message of hope to me so that I would know that He still cared?" And then she looked at us and said, "You're my angels."
We started praying for her. We told her this was not the end. We reminded her that although it might be the end of this particular dream, God had something else for her. We told her that we believed God did send us to her that day to encourage her to return to Him and to trust Him alone. We hugged her. We recited Scripture to her, and then we left.
I drove by the café the next day, and she indeed was gone. The doors were closed. But we were able to be messengers of God, of love, of hope, and of service to this woman who desperately needed it, because we simply asked the question, "What needs to be done?"
Sometimes we are privileged to see the end result of these stories and hear the blessings. And sometimes we do acts of service in quiet, where no one sees, and only God knows the eternal impact that we're making. It's necessary to train our children that sometimes we're going to see the result and sometimes we don't, but either way, it's an act of spiritual service to God. Service is our act of worship to Him. We're serving Him by serving others. When we serve Him, we're obedient. Eternal things happen. Lives are changed.
Originally posted August 4, 2010.
From Spiritual Parenting © 2010 by Michelle Anthony. Published by David C. Cook, www.davidccook.com/. Used by permission. All rights reserved.
Michelle Anthony, Ed. D, is a Pastor of Family Ministries of ROCKHARBOR Church in Costa Mesa, California. A former professor of Biola University and Talbot School of Theology, Anthony has written over a dozen resources for Christian Education and Family/Youth Ministries. Michelle and her husband, Michael, have two children and live in Orange County, California.
Have something to say about this article? Leave your comment via Facebook below!
advertise with us
Example: "Gen 1:1" "John 3" "Moses" "trust"
Advanced Search
Listen to Your Favorite Pastors