Raising Kids Who Are Unashamed of the Gospel
Kim Wier , Contributing Writer
Thursday, July 14, 2005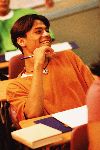 "For God has not given us a spirit of timidity, but of power and love and discipline. Therefore do not be ashamed of the testimony of our Lord or of me His prisoner, but join with me in suffering for the gospel according to the power of God, who has saved us and called us with a holy calling, not according to our works, but according to His own purpose and grace which was granted us in Christ Jesus from all eternity..." 2 Timothy 1:7-9
"Be diligent to present yourself approved to God as a workman who does not need to be ashamed, accurately handling the word of truth." 2 Timothy 2:15
"For whoever is ashamed of Me and My words, the Son of Man will be ashamed of him when He comes in His glory, and the glory of the Father and of the holy angels." Luke 9:26
Shame is a concept children, who regularly feel embarrassed by their parents, will fully understand. They know what it is to both feel embarrassed by someone else and cause embarrassment to others. The shame that results is uncomfortable in any degree. They, like us, learn to avoid those feelings whenever possible. For many adults and children, that can also mean avoiding openly identifying with Jesus Christ and sharing His message of unconditional love.
Parents who want to raise children unashamed of the gospel of Christ have to themselves be willing to please God regardless of personal rejection. Those who serve God can't be effective for His kingdom until they openly and without shame share the secret that they belong to Him.

It may, at times embarrass your children when you speak so confidently about the Savior, but it will also model for them seeking His pleasure above all else. In time, they will also be able to share boldly with no regrets.
As for telemarketers, do what you must when they call, but if it's my son -- remember, he is saving for college.


Kim Wier Copyright 2005

Kim Wier is the director of Engaging Women, a ministry of women encouraging women through speaking, writing and broadcasting. The author of four books, an award winning humor columnist and radio talk show host, Kim regularly speaks to audiences around the country with depth and humor that focuses on discovering God in the everyday experiences of life. For more visit www.engagingwomen.com.


Have something to say about this article? Leave your comment via Facebook below!
advertise with us
Example: "Gen 1:1" "John 3" "Moses" "trust"
Advanced Search
Listen to Your Favorite Pastors