Saving & Securing Stepfamilies
Kay Adkins , Baptist Press
Wednesday, February 23, 2005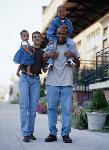 Do you know how many stepfamilies are in your church's congregation? Stepfamilies are on the rise in America -- the U.S. Census Bureau even predicts they will outnumber the nuclear family by the year 2010.
The challenges facing stepfamilies are immense:
More than 40 percent of marriages each year are remarriages, 60 to 75 percent of which eventually end in another divorce. More than 1 million children each year watch their parents divorce and remarry, and thereby learn to take relationships and marriage lightly. If we, as the body of Christ, are to uphold God's ideal for marriage and family and help to reverse those divorce statistics, ministries designed to strengthen stepfamilies are essential.
In his book, The Smart Stepfamily, Christian counselor Ron Deal states, "Stepfamily ministry represents the next challenge for American churches. Stepfamilies are a field ripe for harvest. But the workers are few. Most of the current ministry to stepfamilies is a grassroots effort; in other words, the ministry being done in most churches today is being done by the stepfamilies themselves."
In my personal experience, and in research for this article, I've found Deal's statement to be accurate. Stepfamily groups form when one or more couples, unable to receive adequate answers to their stepfamily dilemmas, begin to speak up. Couples in churches with stepfamily classes are grateful to have the understanding, support and encouragement of other step-couples. But they often do not have a sense that their church leadership really understands their plight.
Second Baptist Church in Houston has a stepfamily class currently with about 50 active members. Cindy Raymond, stepmother and an adult education staff member at Second Baptist, was instrumental in beginning the class. She forthrightly stated, "Do we as a church have a handle on it [stepfamily ministry]? I don't think so. If you haven't lived it, you don't get it."
So, what do stepfamilies need? They need to know that the high level of volatility they experience is a normal dynamic for stepfamily life. They need guidance from those who have gone before them to help them avoid some destructive patterns common to stepfamilies. They need to know that God is with them and wants to use them in their situation to bring healing and restoration, and that He will see them through.
Most stepfamilies face many unexpected challenges unique to their circumstances, making them extremely vulnerable to family struggles. Some examples include:
• Relating to and disciplining children who do not accept a stepparent as a "parent."
• Dealing with former spouses who often are vindictive and manipulative.
• Unrealistic expectations.
• Overcoming the hurts and bad relationship habits of the past.
Think about these differences between nuclear families and stepfamilies:
• In a nuclear family of four, there are six possible one-on-one relationships (mom and dad, mom and son, mom and daughter, dad and son, dad and daughter, son and daughter). When a couple divorces and just one parent gets remarried to someone with two children, the number of one-on-one relationships jumps to 21. Now, imagine the other parent remarries someone with two children. That exploding number of relationships means an explosive potential for conflict, especially when most or all of the individuals have been deeply wounded.
Have something to say about this article? Leave your comment via Facebook below!
advertise with us
Example: "Gen 1:1" "John 3" "Moses" "trust"
Advanced Search
Listen to Your Favorite Pastors