Saving & Securing Stepfamilies
Kay Adkins , Baptist Press
Wednesday, February 23, 2005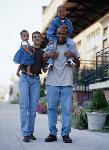 Steve and Kitty were in desperate need of help when they entered the stepfamily group at their church. "I had been a single parent for nine years," Kitty recounted, while Steve "went from being mom's fun boyfriend to commanding officer of the house."
Steve added new rules that Kitty didn't necessarily agree with but went along with to make Steve happy. Kitty soon found herself siding with her boys. She had difficulty keeping her marital relationship a priority. Steve struggled with being perceived as the "evil stepfather" both by Kitty and her sons.
Steve and Kitty both say that being a part of the stepfamily group has helped by opening their minds and hearts to see and understand each other's point of view. "God has shown our family what a group of believers can do together when we come to Him. I believe one reason God has led us through these trials is so that we can help other stepfamilies," Kitty said.
Marc and Valerie joined a stepfamily home group before they got married. "With both of us having failed marriages with kids," Marc said, "we just didn't want to put the kids through it if it wasn't going to work. Through the group, I had a complete paradigm shift in the way I thought [stepfamily life] would be."
What Marc learned in the class helped him with his relationship approach to his stepkids. "I learned about the loyalty issues -- that my stepdaughter feels like she is being disloyal to her dad if she likes me. It's easier for her to say that I am mean, or unfair, than it is for her to process those emotions. I kind of roll with that. Some things take time. We just have to show love and consistency. I don't like it, but I accept it."
My husband, Carl, and I helped to facilitate a stepfamily course at a former church. As we studied Ron Deal's stepfamily book together, the repeated epiphany was, "It ISN'T just me!" As we addressed the issues we had in common, we learned what we can and cannot control and to trust God with what cannot be controlled. Issues of trust and control are huge for stepfamilies.
Many who haven't experienced life in a stepfamily would ask, "Don't all families have these problems? Why do they need anything more than biblical marriage and parenting classes to help them?" Certainly the same biblical principles will apply to stepfamilies and provide a good foundation on which to build. However, the added relationships between stepparent and stepchild, between former spouses and between new spouse and former spouse do not get addressed in the usual marriage enrichment or parenting curriculum. Consequently, deeply troubling issues that step-couples have go unanswered and they feel as if they are abnormal -- much like a man going to an emergency room to have a broken leg set, only to be told it's his fault the leg is broken, and he'll just have to live with it.
Stepfamilies form out of brokenness -- relationships that fell apart, or the death of a spouse. Most do not recognize how much healing needs to take place in all the members of this new expanded family (spouses, children and former spouses). Churches can build up stepfamilies by helping them deal with the fallout of brokenness, by providing biblical and practical education on stepfamily life, and by providing encouragement and accountability to persevere and be used by God as a channel of restoration and healing for family members.
Grassroots classes that provide this support are fighting for the family by strengthening stepfamilies.


Kay Adkins is a stepmother and author of the book "I'm Not Your Kid: A Christian's Guide to a Healthy Stepfamily" (Baker Books, 2004). If you have questions about ministering to stepfamilies, contact Kay at kay@faithfulsteps.com.


© 2005 Baptist Press. Used with permission. All rights reserved.

Have something to say about this article? Leave your comment via Facebook below!
advertise with us
Example: "Gen 1:1" "John 3" "Moses" "trust"
Advanced Search
Listen to Your Favorite Pastors