Single Moms: Seek the Lord with All Your Mind
Lori Little, Hope & Help for the Single Mom
Thursday, June 01, 2006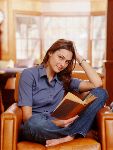 I spent the first two years of my life as a single mom in darkness, shock and depression. I had extra time on my hands now that I was alone. I did not know what to do with that time, and this only contributed to the darkness. Regardless of all my new single-mom responsibilities demanding my attention during the day, there was still that time after Eric went to bed or before I went to bed that caused me the most struggles.
Night after night, I found myself sitting in a quiet house, with no one to talk to. I found myself either drowning my sorrows in front of mindless TV shows or getting fat from eating away my pain with junk food. If I wasn't sitting in front of the television or indulging in junk food, I was entertaining Satan with tea parties of self pity. All I could do was think about how life as a single motherhood was awful. I entered into a romantic relationship after my divorce hoping that would solve all my problems.
One night, the Lord spoke to me after I put Eric to bed. I was sitting on the couch crying, feeling sorry for my failed marriage and regretting how I almost destroyed my life and my son's life in this new relationship. Instead of leaving me to continue in this nightly downward spiral, the Lord asked me to devote the next 6 months of my life to just reading every night. He told me to get some books at the local Christian bookstore, lock myself in, and read.
I had only been to a Christian bookstore one time, and that was to buy my Bible. I had no idea what I was supposed to read or what book I should get. But I thought God's request was a better plan than sitting on the couch wallowing and eating………………… So, off I went.
I prayed as I walked through the doors, asking God to show me exactly what He wanted me to read. I looked around at the different departments and decided that I would visit the women's section -- that seemed like the most logical place to start.
I stood in front of the wall of books and prayed "Show me God." All of the sudden it seemed like two books literally jumped off of the shelves at me. The first one, Loving God With All Of Your Mind, was written by my now dear friend Elizabeth George.
The other was by another dear friend, Michelle McKinney Hammond, called What to do Until Love Finds You.
So, I did what God said to do. In the months that followed, I cannot remember doing anything other than spending time with my son, working, and reading. Every second of extra time I had, I devoted to reading my Bible first followed by books written by fellow Christians like the ones listed above.
Now, I was a brand new Christian, so everything I read in these books about being a woman of God I was learning for the first time. Fascination took over, and I could not stop. For the next 6 months I read and read, and I have not stopped since. I consistently read one new book a week, and I pray I keep this practice up. My personal library is now my most treasured earthy possession.
So what did I discover after immersing myself in the written word? I realized that all of that empty, wasted time served as nothing more but an open door to the enemy. 1 Peter 5:8-8 says.
"Be of sober spirit, be on the alert. Your adversary, the devil, prowls around like a roaring lion, seeking someone to devour."
Now, listen to how God asks you to respond to this reality in the beginning of verse 9.
"But resist him, and be firm in your faith."
I am truly passionate about this principle, ladies, because I believe that single moms are the enemy's #1 prime target. Why?
Have something to say about this article? Leave your comment via Facebook below!
advertise with us
Example: "Gen 1:1" "John 3" "Moses" "trust"
Advanced Search
Listen to Your Favorite Pastors