A Grip on Grief: How to Help Children Cope with Loss
Barbara Schiller, Single Parent Family Resources
Tuesday, August 28, 2012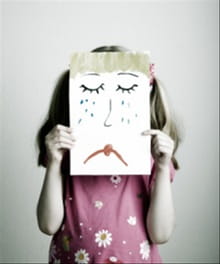 According to Jewett, the second phase of grieving is acute grief, which can be seen in several behaviors: yearning, pining and searching; strong emotions; disorganization or disorientation, and despair or depression.
Yearning, Pining and Searching. This phase is painful. The children are no longer living in denial, and they feel the deep impact of their circumstances. As the pattern of denial breaks down, they try to understand what has happened to them. They look for something good in their past to help them cope with the present and anticipate the future.
Strong Emotions. The release of your children's anger is a process. Several years ago when I was a camp counselor, seven of us spent our day off hiking in the Rockies. We agreed that whoever found the first snowfield would let the others know.
We should allow our children to be angry, scared or sad. When they "own" their emotions by expressing them, their emotional pain will not last as long.
Some ways you might help children release anger are: crumpling paper and stuffing it into a bag, pounding clay or playdough with your fist, beating a pillow, getting involved in sports, and engaging in fun activities around the house to burn any excess energy. But most importantly, allow them to move at their own pace and be available to listen.
If anger is not properly vented, it will reveal itself in outbursts, violent temper tantrums, ulcers and high blood pressure. Anger is one way of peeling back the emotional scab and allowing further healing – from the inside out.
Disorganization or Disorientation. Grieving children are often disorganized and disoriented. Though once quite competent and energetic, they find themselves sitting aimlessly with blank stares. Decisions are exhausting, and concentrating on a task becomes overwhelming. Is it any wonder that school can also become an obstacle? Because of the child's inability to concentrate, learn and retain information, his or her grades usually drop
Despair (or Depression). Children's depression often resembles a profound sadness. This was especially true of 13-year-old Maria. She was sad and needed to be given permission to openly grieve. Only then was she able to begin healing. She expressed this pain through a poem written to Jesus one afternoon:
Just Someone Who Cares (Jesus)
Every once in awhile
I sit and tell You how I feel.
My thoughts go for miles,
But physically it's not real.
Only You know how much
I miss my dad.
Only You know how it makes me sad.
Only You know how I can't compete.
Only You know how I'm always beat.
Sometimes I'm so scared,
Sometimes I wish someone cared.
Some people fake it and say they do.
I don't believe them, do You?
Phase 3: Integration of Loss and Grief
Jewett cites three behaviors to watch for in this phase, each of which shows that your children are anticipating their future.
Talking About the Loss. Children begin to talk freely about their parents' divorce as their shame and embarrassment lessen. The divorce may still bother them, but acceptance comes even though things didn't turn out the way they wished.
Recently on Single Parents
Have something to say about this article? Leave your comment via Facebook below!
advertise with us
Example: "Gen 1:1" "John 3" "Moses" "trust"
Advanced Search
Listen to Your Favorite Pastors