Best Practices for Dating Single Parents (and the Singles Who Date Them)
Ron L. Deal, smartstepfamilies.com
Tuesday, August 21, 2012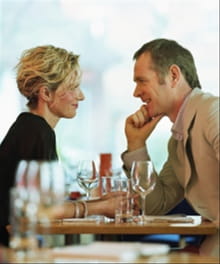 Offer Soft Invitations to Older Children
Teens and adult children need to move toward your dating partner at their own pace. If you make it your agenda to get them to accept your partner and relationship, you may be shooting yourself in the foot. Instead, make opportunities for them to get to know each other, but don't force it. Soft invitations such as, "Roger will be having dinner with me on Saturday. You are welcome to join us if you'd like." show respect and allow relationships to develop at their own pace.
Acknowledge and Label Child Fears
Children of all ages, young to old, benefit when a parent says, "I can see that the idea of my dating scares you. You are missing mom/our family/etc. and probably don't want any more changes to our family. I get it. I appreciate your being honest with me." Use phrases like "this scares you," "you're afraid that our family won't be the same," or "you don't want to have to change schools or leave your friends." This type of response validates the child's fears. It also shows them their feelings are important to you, keeps the communication door open, and helps children put labels on their own emotions (which is very important for young children especially).
Pace and Balance Your Dating
If you fall in love don't abandon your kids by spending all of your free time with your newfound love. It's tempting, but doing so taps your child's fears that they are losing you and gives the false impression to your dating partner that you are totally available to them. You're not. Don't lose your balance.
If You Don't Have Kids
Do your relationship a favor, encourage the single parent you are dating to "go home" and be with their kids, without you, every once in a while. This has two benefits: (1) it helps lessen the fears of the children; and (2) it keeps perspective in your relationship. Might you feel a little left out and lonely? You bet. But then this relationship is as much about them as it is about you. Having said that, let me be candid: if you can't get used to this notion and learn how to deal with it, then you'll be a lousy, miserable stepparent.
Introductions and Early Dating
Early on your kids may meet your date and be intrigued to learn a little about them, but the first few dates should primarily be about the two of you. At first reference your date as "a friend" or if your kids are prepared, call them your "date." Casual introductions are fine when you start dating someone, but don't proactively put your kids and the person together until you are pretty sure there are real possibilities for the relationship. This is especially true for children under the age of five, who can bond to someone you are dating more quickly than you can.
As your interest in the person grows, gradually become more intentional about finding time for your boy/girlfriend and kids to get together. Tread lightly at first and continue to monitor and process everyone's fear or concerns. If the other person has children as well, it might be wise to orchestrate early get-togethers with just one set of children. You might, for example, engage in an activity with your partner and their children one weekend and then have your partner join you and your kids the next. Navigating multiple new relationships can be overwhelming. Breaking the two families into parts can be helpful initially. Eventually, though, assuming your dating relationship continues to deepen, you'll want to get everyone together for a shared activity.
Expect Hot/Cold Reactions
Liking a parent's dating partner sometimes creates a loyalty problem for kids: They don't know how to embrace everyone and not hurt feelings (especially the other biological parent). Because they are caught in a loyalty conflict, children sometimes warm up nicely to a dating partner and then turn cold. Sometimes they vacillate back and forth. Don't panic or judge the children too harshly. Confusion comes with the territory. Relax and work with what they give you.
Recently on Single Parents
Have something to say about this article? Leave your comment via Facebook below!
advertise with us
Example: "Gen 1:1" "John 3" "Moses" "trust"
Advanced Search
Listen to Your Favorite Pastors