Just a Little Stubborn
Linda Rondeau, Crosswalk.com Contributing Writer
Tuesday, July 24, 2012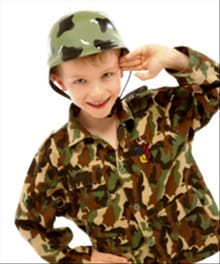 Financial teaching and encouragement to participate in household chores resulted in equal amounts of resistance. If I fined Jim's allowance when expected work was not completed, he simply managed with less income. Jim's bedroom looked like the aftermath of Hurricane Andrew. To instill a sense of cleanliness, some mechanism was sought for the containment of soiled clothing. I provided him with his own personal clothes hamper. Yet, underwear continued to find its way into radiators and underneath furniture while the designated receptacle remained empty. When Jim's paper route money disappeared into the bowels of his room, never to be found again, the room was transformed into a paradigm of orderliness.
The secret to Jim's motivation was gradually becoming unveiled. He only changed behaviors that created problems for him. If it were in his own best interest to change, he did so with little or no coaxing. My exaggerated efforts to alter Jim's exasperating habits served only to provide him with hours of amusement.
Still plagued by feelings of my own inadequacy, the feelings deepened when Jim's teacher requested a psychological evaluation. She strongly recommended a high dose of Ritalin or anti hyperactivity medication as a curative for behaviors she described as daydreaming and distractibility.
I knew Jim demonstrated poor attention at home as well. The contents of his heftily filled spaghetti plate invariably landed on the floor as he carried it from the kitchen to the dining room. "JIM! PAY ATTENTION TO WHAT YOU ARE DOING!" was my daily siren blast. Reluctantly, I agreed to the evaluation, certain my inadequacies as a mother would be accusingly hurled in my direction as the causative factors.
When the day of the appointment arrived, I was in utter despair, convinced of my failure as a mother. A woman of faith, I turned to the only hope I knew. I asked God to help me understand my son's resistance so that I could find a way to point him in the right direction. I feared for his future if he continued on this path of defiance. I was reminded of the verse:
If any of you lacks wisdom, he should ask God, who gives generously to all without finding fault, and it will be given to him (James 1:5 NIV).
While Jim spoke with the psychiatrist, I was jolted from my self-recrimination with a sudden revelation. There was absolutely nothing intrinsically wrong with Jim.The problem was seeded in my inability to see my child for the person he was. I was trying to change a lion into a kitten. I wanted an acquiescent, pliable child; but this was not the raw material God created in Jim. His composite nature was unique, a special blend of willfulness, stubbornness, and contrariness.
God had a plan for Jim and created him for that special purpose. In time God would carve away the rough edges. Someday that hard-core resistance would give way to steadfastness, that annoying stubbornness would move him toward conviction, and that constant rebelliousness would arouse courage. When Jim emerged from his evaluation, the psychiatrist laughed and shook his head. "We had a great time. Your son is a wonderful boy and quite bright. There is nothing wrong with him, except that he is just a little stubborn."
I watched my stubborn son move methodically through his drills and beamed with pride, now confident in his ability to successfully complete that which he sets in his heart to accomplish. I was glad for the gift of him and for the special qualities God gave him, assured that He would complete the good work He started.
Linda Rondeau is the author of America II: The Reformation (Trestle Press) and The Other Side of Darkness (Pelican Ventures) which won the 2012 Selah Award for best debut novel. She is the editor of Geezer Guys and Gals blog, a multi-author blog for and by seniors, and also blogs at This Daily Grind.
Publication date: July 24, 2012
Recently on Single Parents
Have something to say about this article? Leave your comment via Facebook below!
advertise with us
Example: "Gen 1:1" "John 3" "Moses" "trust"
Advanced Search
Listen to Your Favorite Pastors