Split Parent Family Values
Andrew Stenhouse, SPFM
Thursday, August 29, 2013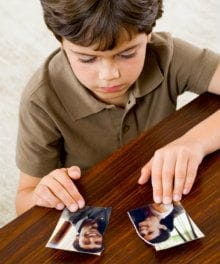 The challenge
Keep in mind that your kids watch your behavior to formulate their own values. While mistakes occur, blatantly conflicting behaviors can be confusing as one parent may profess one set of values while his or her lifestyle reflects another. This incongruence, according to psychologists, is the source of sadness and frustration for many people. The true mark of a person's value system, ultimately, is the person's behavior.
"By their fruit you will recognize them....Every good tree bears good fruit, but a bad tree cannot bear good fruit. A good tree cannot bear bad fruit, and a bad tree cannot bear good fruit" (Matthew 7:16-18).
"For out of the overflow of the heart the mouth speaks. The good man brings good things out of the good stored up in him, and the evil man brings evil things out of the evil stored up in him" (Matthew 12: 34-35).
Remember that the focus of split-parenting is not a former spouse. It's your children. Don't compete as to who is the better parent or fall into the trap of false superiority that feeds your own need to feel better about your parenting.
We often feel so guilty about the divorce that anytime we can feel we are being a good parent (by being better than your ex), we enjoy it. This self-righteous attitude will only lead to division and conflict. Instead of focusing on the values of the other parent, focus on the values of your kids.
As you guide your kids, remember that spending time with other Christians is crucial. Socializing with Christian families allows your kids to experience the Christian home as the common standard. Christian community reinforces Christian values. This same community can also pray for us.
Defining a code of values for our children will help them to live for what they believe. Once they have that definition on paper, if they see behavior (in their other home) that's not consistent, they'll be able to understand that it's wrong and hopefully make a different choice for themselves. Granted, it may take some time to develop that code, but it is well worth the effort. Remember that we are fighting to build life-changing values in the hearts of our kids.
Andrew Stenhouse helps his children stand for truth in Costa Mesa, Calif.
Need additional help parenting through divorce? Visit www.troubledwith.com
The Center for Single Parent Family Ministry was incorporated as a non-profit corporation in 2003, led by a Board of Directors and supported by an Advisory Council. Today, we humbly follow where God is leading in order to bring about hope and healing in the lives of single-parents and their children, the modern-day widows and orphans (James 1:27).
Publication date: August 29, 2013
Recently on Single Parents
Have something to say about this article? Leave your comment via Facebook below!
advertise with us
Example: "Gen 1:1" "John 3" "Moses" "trust"
Advanced Search
Listen to Your Favorite Pastors