The Long Haul
Matt Haviland, Founder, A Father's Walk
Thursday, June 27, 2013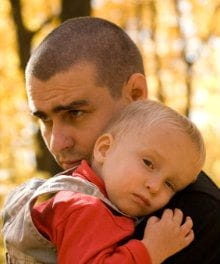 "To You, O Lord, I lift up my soul. O my God, I trust in You…Lead me in Your truth and teach me, for You are the God of my salvation; on You I wait all the day. –Psalm 25:1, 5 (NKJV)
By far, one of the greatest hardships we could ever endure as a parent is to be alienated from our children. If or when this does occur, the way we handle (and overcome) the battle will depend greatly on how grounded we are in our walk with the Lord. Parental alienation is a very real problem in our society these days, often the cause of a spiteful individual, the legal system, or our own choices. (For a very extreme example, please check out this link. Regardless of the how it was initiated, the fact is that the alienated parent is often horribly affected and the children may be caught in the middle as collateral damage. Can I say that I've been a victim of PAS (Parental Alienation Syndrome)? Not to the full extent, no. I have, however, been accused of false reports and had my own daughter withheld from me intentionally for short periods of time. I have also experienced several men in our single dad small group who have been separated without cause from their children for considerable lengths of time- sometimes weeks, months, or even longer. It is for this reason that I was inspired to write this article; not to bully my way into the legalities and politics of our legal system- but to give any single parent who is being alienated from their own kids right now hope that only comes in the Person of Jesus Christ.
When Trouble Arises
I can still recall the moment my door buzzer rang a few years ago. I peeked down the apartment building hallway and saw a woman standing with a police officer at the front door. I buzzed them in and invited them into my apartment. He was local law enforcement; she was from Child Protective Services. I was given information that there was a case pending against me, but they could not tell me why. All I was told was that I was not able to see my daughter the next day and that I would be contacted by a detective very soon. I was able to calmly thank them for their time and escort them out, but was literally about to explode internally. The moment they left my house I cried out loud and ran to my room where I threw myself on the floor before God and poured my heart out. After a several minute complaint filing with Him I gathered myself enough to call my mentor and tell him what had just happened.
"Therefore everyone who hears these words of Mine and acts on them, may be compared to a wise man who built his house on the rock. And the rain fell, and the floods came, and the winds blew and slammed against that house; and yet it did not fall, for it had been founded on the rock. Everyone who hears these words of Mine and does not act on them, will be like a foolish man who built his house on the sand. The rain fell, and the floods came, and the winds blew and slammed against that house; and it fell—and great was its fall." –Matt 7:24-27 (NASB)
I was fortunate enough that by this point I had a firm enough foundation in my walk that I did not retaliate and sought out help immediately. Thank the Lord that I was able to speak with a detective a day or two later and the case was dropped on the spot. Although I have an extremely strong idea why this happened and who initiated it, I never even brought it up again because God had shown up and handled the problem. Also, I did not want to cause any further confusion to my daughter and there was no need for added conflict between me and the other party. The point is here that trials and tests will arise, but as followers of Christ we DO have the ability to make it through - no matter how impossible it may seem (John 16:33). Here are a couple quick, yet vital, steps that will help you persevere through tests and trials in life, no matter how difficult they may be.
Recently on Single Parents
Have something to say about this article? Leave your comment via Facebook below!
advertise with us
Example: "Gen 1:1" "John 3" "Moses" "trust"
Advanced Search
Listen to Your Favorite Pastors