The Long Haul
Matt Haviland, Founder, A Father's Walk
Thursday, June 27, 2013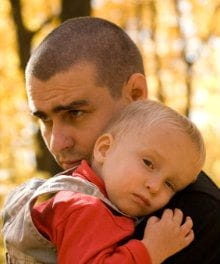 2. Keep your eyes on Him
David is a prime example of how our faithfulness to God in times of adversity is the only way to fight and to conquer. Whether he was standing toe to toe with Goliath, or running for his life and hiding out in the strongholds of En Gedi, David kept his heart steadfast in the gravest of situations and kept praising the Lord all along (Psalm 57:7).
The Long Haul
I titled this article the way I did for two specific reasons. First, all too often cases involving parental alienation are in fact a "long haul" - dragging out considerable lengths of time. Court systems can seem to move at a ridiculous, almost frozen pace; and the opposition isn't always a one-time offensive. These are the times when we must hold fast to Jesus and allow Him to stay centered in our life. If we begin to give place to anything else in our heart (1 John 5:21), then we are handing ourselves, our role as a parent, and the hope we have in Him straight into the hands of the enemy. Yes, you may be in the right; and no - it more than likely is not fair. Keep in mind that if there is anyone who knows about first-hand false accusations and "not fair" trials, it's our Lord!
The writer of Hebrews tells us that our High Priest has suffered in so many ways that we have too, which is why He understands. Still, as His followers we often do not realize the price that comes with our faith until reality hits. The problem is we are faced with an enemy that has dominion over this world and anyone who is not a true believer in Jesus Christ. The second reason for the title is because as parents, we are committed to our children FOR LIFE- not just until they reach eighteen. I can only imagine what Kevin from the article above went through every single day for fifteen years. The hurt, anger, and complete emptiness and loss of identity he must have faced are almost beyond comprehension. Now, as a free man and father restored to his children, he has the opportunity to pick up the pieces and pour back into his relationship with them the way he was always meant to as their dad. I mentioned in my book that Jesus commissions us to go and make disciples, which begins with our own children. Discipleship is a life-long process and if we are to model true Christianity to our kids, then it will only be a result of our growth, faith, and obedience from the years prior.
1. Have these foundations set in place BEFORE the attacks come

The Bible is our guide or "playbook" for life. I mean, professional athletes don't win championships just by walking onto the field one day and never practicing, right? Or, would our military even think of planning an offensive (or defensive) without skilled and highly-trained plans first? We have to be ready BEFORE a storm hits!

2. Pray

Again, prayer changes everything and is the life line between us and God. Once Jesus took His last breath, we were fully restored to our original relationship with our Father as believers (Matt 27:51, Romans 5:1 . Keep the prayer lines open- always!
I do not know what the future holds in regards to not only Kevin's life, but for any of you who have faced similar times. What I do know, though, is that our God is unchangeable and still sitting on the Throne. With that, we find the faith we need to grow; the hope we need to endure; and the love our children so desperately need from us - for life.
Matt Haviland is the founder of "A Father's Walk" single dad ministry and the author of the book, A Father's Walk: A Christian-Based Resources for Single Fathers. He currently lives in his hometown of Grand Rapids, MI, is the co-founder of the Grand Rapids Single Parenting Expo, and is a single dad to a beautiful little girl himself. For more information on the ministry, please visit www.afatherswalk.org.
Publication date: June 27, 2013
Recently on Single Parents
Have something to say about this article? Leave your comment via Facebook below!
advertise with us
Example: "Gen 1:1" "John 3" "Moses" "trust"
Advanced Search
Listen to Your Favorite Pastors