Succeed at Motherhood in Mid-Life
Whitney Hopler, Live It Editor
Thursday, January 06, 2005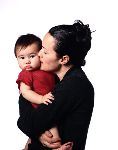 If you're over 35 years old, statistically, your life is half over. That's the bad news. But the good news is, if you're also the mother of a young child, you have plenty of new adventures waiting for you.
You may have delayed having a baby so you could establish a career or travel. Circumstances like infertility or divorce and remarriage may have delayed your plans for you. But however you came to be a mid-life mom, you're in good company. In our society, it's becoming more and more common for women to give birth for the first time after age 35 - or even age 40. Sure, you may have less energy than younger moms, but you have more life experience. Although you face unique challenges, you also have the potential to succeed at motherhood in ways that young moms might not.
Here are some ways you can succeed at motherhood in mid-life:
• Acknowledge the hard parts of motherhood, but don't dwell on them. Don't be afraid to admit that it's hard to be a mom sometimes; the job can be highly demanding. But know that you can minimize the stress in your life and find solutions to problems.
• Think young. Don't stop being active and adventurous. Keep having fun, learning new things, and contributing to the world.
• Don't worry about aging. Remember that aging is a normal part of being alive. Ask God to help you be at peace with the aging process and accept its changes gracefully. Know that you can count on God to provide everything you need to be a great mom as you grow older.
• Nurture yourself. Give yourself permission to do things you enjoy - go out hiking, learn to play piano, pursue a hobby, etc. Understand that by taking care of your own needs, you'll be better able to help your family.
• Treasure every moment. You may value the time you have your child more than a young mom. Be sure to cherish each day you're privileged to enjoy in his or her company.
• Tap into your patience and wisdom. Celebrate the maturity that your life experience has given you. Know that you can be more patient and wise in your parenting than many younger moms.
• Make your family your top priority after God. Don't spread yourself so thin that your family gets the leftovers of your time and energy. Focus on family before paid employment, volunteer work, or church work.
• Spend time alone with God on a regular basis. Spend time regularly praying and reading and meditating on the Bible. Expect God to meet you during that time and give you the peace you need to live well no matter how busy you become.
• Nurture your friendships. Recognize that it's vital for you to have a network of close friends so you can encourage and support each other.
• Use your mid-life crisis for good. Accept the changes that are occurring in your life. Understand that you're entering a new era of your life. Assess where you've been, accept what you can't change, and pray for where God wants you to go. Use the ups and downs of your journey to help you understand your child's growth better.

Don't deny any of the scary mid-life feelings you're having; instead, choose to experience them and pray about them. Take the time to assess your life and your purpose when it's your birthday or some other significant time. Thank God for giving you the opportunity to be another year older.
• Keep a healthy balance in your life. Ask God what His priorities are for your life right now. Then make His priorities your priorities and live by them. Consider all the facets of your family's life (spiritual, financial, recreational, etc.) when you make choices about how to spend your time. Don't compare your family to other families when considering whether or not to work at paid employment inside or outside the home (and, if so, what schedule to set). Know that God has unique plans for each family. Prayerfully make the best decision you can based on the wisdom He gives you. Keep Christ the focus of your life.
Have something to say about this article? Leave your comment via Facebook below!
advertise with us
Example: "Gen 1:1" "John 3" "Moses" "trust"
Advanced Search
Listen to Your Favorite Pastors