Talking About Sex: Ways to Listen so Your Kids Will Talk
Melissa R. Cox, Editor
Monday, October 17, 2005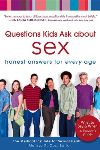 Some say talk is cheap, but not talking to your child about sex will be costly. Before you dive into this important topic, remember that sex is a deeply personal and relational topic. Talking about sex can't be a onetime event. Let your child know that you want to be his guide on this very important and exciting journey as he learns about his sexuality. It may take him some time to warm up to the idea if he's older – but before you're offended by his responses to your efforts, remember that your relationship with him will determine how much he wants to know from you. Keep in mind that this journey is a process of engagement, teaching about the very essence of life, relationships, and sexuality.
The art of talking about sexuality will evolve as your child grows. Initially, the answers your provide may be very matter-of-fact, but as he matures, you'll want to wrap your answers in the context of relationships and couple answers with the character traits, morals, and religious values you're trying to teach. An important part of this journey of talking about sex and sexuality is to provide affirmation and permission to ask more questions in the future. You might something like, "I'm glad you asked that. I know that's a difficult question to understand."
Relationships Matter
All relationships, especially parent-child relationships, should be grounded in a healthy respect for one another. In another words, as a parent, your primary concern needs to be what's in the best interest of your child.
There is no other way to develop healthy relationships with your child than to enter into her world. As we mentioned earlier, this means understanding what her current needs, interests, and passions are. You can't delve into the life of your child except by playing with her and understanding and listening to what she thinks, feels, and enjoys.
As your child matures, she'll undoubtedly have more and more questions about sex and sexuality. In fact, she'll not only have more questions but more experiences. Each of these experiences will allow you opportunities to boldly answer questions and affirm the thoughts, ideas, and growing identity of your child.
Tips for Success
Most parents wonder how they can become more effective at influencing their child's thoughts on sexuality. Here are a few tips that might help you on this important excursion:
• Start early. Work your way up to talking about sex. Enhance your one-on-one skills with your child by discussing appropriate personal health and safety issues as he grows. It will be easier for both you and your child to talk about sex if you've already developed a rapport and pattern for discussing sensitive subjects. These might include personal hygiene, dealing with strangers, resisting peer pressure, avoiding substance use, and anticipating puberty changes.
• Believe in your child and build his confidence (and self-control). Both children and adults tend to overestimate the number of teens who are sexually active. Never assume your child is incapable of resisting temptation. Instead, equip him with knowledge, confidence, and unconditional love and support. Help him establish high goals and expectations for himself, and regularly praise him for his success.
Look for teaching opportunities and use them. Many parents admit they have a hard time finding a good starting point for a discussion about sex, but if you're observant, you'll find natural "launching pads" for discussion all around. It might be a provocative commercial on TV, a popular singer's attention-getting wardrobe, or a graphic sex scene in a movie.
Have something to say about this article? Leave your comment via Facebook below!
advertise with us
Example: "Gen 1:1" "John 3" "Moses" "trust"
Advanced Search
Listen to Your Favorite Pastors