Teen Magazines Send Mixed Messages
Rebecca Grace, Agape Press
Thursday, October 20, 2005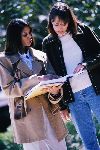 In Teen People (September 2005), a girl tells readers, "I made out with him for hours -- with my parents right down the hall."
CosmoGirl! readers are given a toll-free number to call for emergency contraception in case a condom breaks during intercourse. On the same page is a photo of a girl approaching a guy with a box of condoms and a can of whipped cream. Its caption reads, "Sophia's got Chad totally whipped."
Not what one would expect Christian teens to be reading? Sadly, they are. And so are millions of other young people who are falling prey to the gratuitous sex in teen magazines targeted at girls ages 13-17.
In the August 2005 issue of Seventeen magazine, female readers are told how to "Be a Great Kisser" as guys share what they love and hate about a girl's "smooching style."
Young girls can read about "A Day in the Life of a Teen Nudist" in the September 2005 issue of Elle Girl. Obscured pictures of nude males and females accompany the article to illustrate the teen's involvement in a nudist colony.
In addition, these magazines are blatant in their seductive advertisements, display of sexy lingerie and promotion of Planned Parenthood, America's largest abortion provider.
Unfortunately, such content is only a snippet of what teens girls are buying when they purchase the latest issues of today's hottest magazines.
According to Christine E. Virgin, editor and co-publisher of the new Realiteen magazine, "Seventeen, Teen People and CosmoGirl! have about six million readers combined."
"The influence of the mass media upon the minds and hearts of America's youth cannot be overestimated," writes George Barna, in his book titled Real Teens: A Contemporary Snapshot of Youth Culture. "Teens spend an average of four to six hours per day interacting with the mass media in various forms."
Specifically, Barna found that 69 percent of teens read a magazine in a typical day. As a result, the influence of the media is so strong that is it defining the young people of today -- a notion that became evident to professor and researcher Debra Merskin several years ago.
"I consistently found that teen girl magazines play a central role in the formation of a young girl's identity," Merskin said. "How to look, live and be liked by boys are lessons taught in teen girls magazines."
But today it seems as if the lessons are being taken a bit further as young girls are now questioned about their sex lives and inundated with lustful images.
Why? Perhaps the answer is profits.
"We both know that sex sells," said model Jalin Wood, Miss Mississippi 2004 and a former intern for Atoosa Rubenstein, editor-in-chief of Seventeen. "It's all over our industry," she told AFA Journal, although she believes that Rubenstein desires to motivate her readers in positive ways.
"[Yet], they're [Corporate America] going to do whatever they think works faster and with the most people, which means they will drag standards down," said New York University communications professor Mark Crispin-Miller, in the PBS Frontline documentary titled Merchants of Cool.
Such is evident from a survey, titled "Sexual Pressure," found in June 2005 on the official website of Seventeen. The survey asked teens detailed questions about their decisions regarding participation in various types of heterosexual and homosexual intercourse.
Say What?
Even more disturbing is that the magazine pitches these topics as a health issue while being quick to include a question about virginity and a claim that abstinence is the only effective means of contraception. In other words, they are sending mixed messages to a vulnerable generation.
Have something to say about this article? Leave your comment via Facebook below!
advertise with us
Example: "Gen 1:1" "John 3" "Moses" "trust"
Advanced Search
Listen to Your Favorite Pastors