Teen Magazines Send Mixed Messages
Rebecca Grace, Agape Press
Thursday, October 20, 2005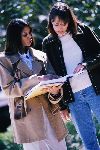 "Has there ever before been a flood of such contradictory, confusing high-pressure 'advice' directed at teen girls that serves their interests less?" asks Sheila Gibbons, a commentator for Women's eNews.
"The ying and yang of being simultaneously irresistible and virginal fill page after page," she explained. "Impressionable teens [and pre-teens] are being whip-sawed by the mixed messages."
Some of these mixed messages are also finding their way into publications labeled as faith-based, spiritual and even Christian. For example, Guideposts Sweet 16 is a "bimonthly publication that connects with girls -- body, mind, and spirit -- and inspires them to live positive lives."
While some of the magazine contents were questionable, what AFA Journal found most objectionable was the inclusion of a website intended to aid a person struggling with cutting. Cutting is a type of self-injury (SI) inflicted by teens on themselves as a way of easing emotional pain with physical pain. The website encourages teens to find alternatives to SI that produce a similar "intense sensation." The website suggests sex as one of those alternatives.
Aside from the mixed messages about sexual content, AFA Journal also found what it sees as a misrepresentation of biblical truth in the first two issues of Realiteen, a new Christian magazine for teen girls about "real life, real faith and real fun."
"The vision behind Realiteen is to be one of the top teen girl lifestyle magazines by using their interests to drive them towards Christ," explained Virgin. "Anyone, whether she's an atheist or a Christian missionary between the ages of 14 and 17, should be able to pick it up and learn more about our Savior."
Unfortunately, after reviewing the Spring 2005 and the August/September 2005 issues of Realiteen, AFA Journal concluded the magazine mixes Christianity and worldliness in a way that waters down Christ and the truth of the Gospel.
For example in one issue, girls are taught how to give their Bibles a makeover since "it's hard enough to read your Bible, let alone take it with you wherever you go."
But probably most disheartening is the section of "Hollywood Highlights" where various celebrities share their spiritual beliefs that range from Kabbalah to Buddhism to the denial of being a born-again Christian. Not once is a biblical view of Christ given nor an explanation as to why these beliefs are pagan.
So what are readers to think? Once again, girls are being led down a path of destruction, and this time their eternity hangs in the balance. Although Virgin and her staff are attempting to offer an alternative to the smut on magazine stands, and for that they are commended, the product unfortunately is only lukewarm at best.
A Parental Responsibility
Parents are encouraged to check out any and all of their children's reading materials.
"I think it is important for parents to know everything about their kids and to have an open relationship and a lot of communication with their children," Jana Pettey, publisher and editorial director of Justine magazine, told AFA Journal.
In other words, Pettey says it's important for children to know they can go to their parents.
According to an ABC Channel 7 news report out of Chicago, "Educators say parents should take the hint when their daughter starts buying CosmoGirl! or the like, saying a child's interest in such magazines is a sign they have questions about sexuality, boys or other issues ...."
The report also notes how important it is for parents to make sure their children know they are a better source of information than any magazine. Along the same lines, Pettey encourages parents to go beyond examining their children's reading material and to go as far as visiting the associated websites to determine the acceptability of the online content.
Have something to say about this article? Leave your comment via Facebook below!
advertise with us
Example: "Gen 1:1" "John 3" "Moses" "trust"
Advanced Search
Listen to Your Favorite Pastors