Could Your Daughter be Trafficked?
Felicia Alvarez, Crosswalk.com Contributing Writer
Tuesday, January 21, 2014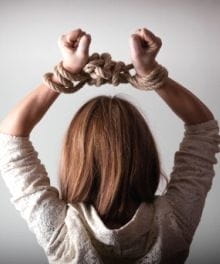 Samantha woke up in a pool of blood and reached back to feel the gash in her head. I've got to get out of here. He's going to kill me.
Her thoughts drifted back to how differently Luke had treated her a year ago. He had been the epitome of a gentleman when they first met. He listened to her, showered gifts on her, and made her feel loved. Everyone told her how lucky she was. He was nineteen and she was a high school freshman. She felt so special that he had chosen her.
After a few months together—the most wonderful months of her life—Luke suggested they run away to live with his family in a neighboring city. "Your parents are over-protective, and they've been giving me the cold shoulder lately," he said. Samantha knew it was true, her parents weren't thrilled about her having an older boyfriend, but they begrudgingly let Luke stick around because Samantha had begged them. "If we move near my family," he continued, "we'll be able to be together, and we'll be so much happier."
Samantha wasn't too thrilled about the idea of leaving her friends and family, but she loved Luke and couldn't bear the idea of living without him, so she agreed.
But when they moved, everything changed. After a few nights at their new place, Luke brought some guys over and ordered her to have sex with them. When she refused, he beat her until she complied. Sweet Luke morphed into someone different—someone awful—a monster who sold her body for money night after night, week after week.
She had no one to turn to after they moved. No family, friends, or neighbors. No access to a phone or computer. And Luke had threatened to kill her family if she did manage to contact them. She couldn't run away either; Luke locked her in the apartment whenever he wasn't home.
She had no way out.
Cradling her wounded head, she broke into tears as she prayed, "God please save me. Please save me."
Facing Reality
Most people don't realize that over 290,000 U.S. children are at risk of being sexually exploited.1
290,000 Samantha's.
290,000 girls just like your daughter.
Samantha was an average teenage girl. She had a happy childhood, a loving family, and lived in a pleasant suburban neighborhood. She did well in school, sang in her church's choir and played competitive sports. The point is, trafficking doesn't just happen overseas. It happens in cities all across America. No one is exempt. It can happen to a pastor's child, a neighbor's daughter, or your daughter.
And trafficking can victimize children of any age. In fact, the average age of entry into prostitution is twelve.2 It's depressing, disgusting, and unbelievable, but it's true. Turning a blind eye won't make it disappear. In fact, if you're a parent, that may be a very dangerous response. Instead, you need to take some active steps to protect your child from Samantha's fate:
1) Educate yourself. The more you know, the better you will be able to protect your children. Films like Nefarious: Merchant of Souls and Shared Hope International's documentary Chosen give a comprehensive look at the sex trafficking industry. They also examine pimp psychology—how these men manipulate young women. Become familiar with trafficking in your state and city by researching anti-trafficking organizations in your community.
2) Educate your daughter(s). Most girls are completely unaware of the threats that surround them. Without training they're easy targets. Share information with your daughter based on her maturity level. Sadly enough, pimps recruit girls as young as ten years old, so middle school may be a good age to start with basic safety.
Have something to say about this article? Leave your comment via Facebook below!
advertise with us
Example: "Gen 1:1" "John 3" "Moses" "trust"
Advanced Search
Listen to Your Favorite Pastors