How to Prepare for Parenting Teens
Nicole O'Dell, Author
Tuesday, April 16, 2013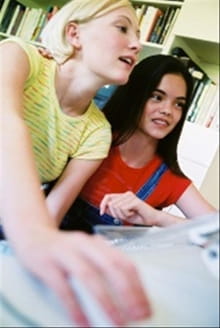 God-honoring parents absolutely should have high expectations and maintain a tight grip on the reins as they raise their families, we also need to prepare our kids to stand alone.
Nothing we do can fully protect our kids from facing temptations, pressure-filled moments, decisions between right and wrong. You can't control what the world throws at them, but you can affect how prepared they are to defend themselves against the onslaught. In each and every pressure-filled moment of decision, there comes a moment just before the final decision is made, a moment when all the preparation, forethought, and wisdom we've been equipping our kids with comes to a head. Once the hot button is pushed, the opportunity for laying groundwork is over. They know what they know, and in the heat of the moment there's no time for anything else. They make a choice based on all the work that came before. And our teens need to be equipped to make the right choice. For each and every hot button they face, they should be braced with some level of preparation, whatever it may be.
Teens will likely face persecution, disappointment, and even out-and-out rejection when they choose to stand for what's right. If we're proactive, our children can reach their teen years already armed with the tools necessary to make hard choices in the face of those afflictions—willing to withstand and endure them for the sake of Christ and for their own well-being.
Let's Take the Mystery Out of Sin!
If you were to start a new job as a police officer, you'd have to go through a lot of training first, right? They aren't going to just hand you a gun and give you keys to a squad car, then send you out into the community to learn as you go.
You'd be trained to recognize the signs of danger and respond to them with strength and confidence. You'd be given tools to help you remain in control in various situations. You'd understand the power of your weapons and how to use them appropriately. And you'd be trained to stand firm in the face of any kind of threat.
In Mark 14:38 we're warned to watch and pray about temptation. Even for Christian adults, our spirits are willing to avoid temptation, but we are cautioned to be attentive because our bodies are weak. How much more so for someone who isn't prepared for temptation? We may have raised the most well-intentioned kids on the planet—ones whose spirits are willing—but their flesh is weak. They need to be trained.
We may wish we lived in a Christian bubble, but pretending we do so ignores a huge need. It results in teens who are sent out into the world unarmed and unprepared for situations they can't avoid. Our kids will face temptation, peer pressure, and sinful desires; it's a fact. Why not arm them with understanding and preparation? It's more important to prepare your children than it is to attempt to create a sterile, sin-free environment in a world that makes it impossible.
Today's youth need to be committed to safe Internet practices before they ever approach a computer. This is achieved through the knowledge and application of God's Word and the pursuit of His will through advanced preparation. Ephesians 6:13 says, "Put on the full armor of God, so that when the day of evil comes, you may be able to stand your ground, and after you have done everything, to stand." (In chapter 10, we're going to do just that as it pertains to your teens and the Internet.)
Fix these words of mine in your hearts and minds; tie them as symbols on your hands and bind them on your foreheads. Teach them to your children, talking about them when you sit at home and when you walk along the road, when you lie down and when you get up (Deuteronomy 11:18-19).
Have something to say about this article? Leave your comment via Facebook below!
advertise with us
Example: "Gen 1:1" "John 3" "Moses" "trust"
Advanced Search
Listen to Your Favorite Pastors