"Parent" is a Verb
Tom Frye, Founder, Family First
Tuesday, December 31, 2013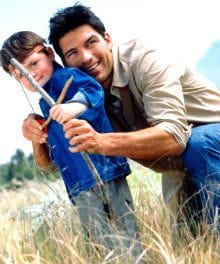 According to a survey released by Baptist Press, if a child is the first person in their home to become a Christian, there is a 3.5% probability everyone else in the household will follow them into faith. If a mother is the first to accept Christ, there is a 17% likelihood her family will do the same. But, if a father is first in his family to become a follower of Jesus, 93% of the time his family will follow suit. Conversely, when fathers are absent or unengaged, things do not turn out well. In his book Father Fiction Donald Miller offers these sobering statistics: 94% percent of the prison population is men of which 85% percent grew up in a fatherless home.
My wife, Lisa, was one of those children who grew up in a fatherless home, and although my parents were both present during my childhood, our home was filled with constant tension and frequent outbursts. So, when Lisa and I married we were determined to provide for our children the stability we never knew ourselves. As the children grew and the time came to consider how they would be educated, homeschooling seemed like a viable option. A year and a half prior to our oldest daughter entering kindergarten, we attended our first homeschool conference. That weekend, we heard Psalm 127:4 repeated frequently, "...children are arrows in the hand of a warrior…" which has become a cornerstone of our parenting philosophy.
As dads, we often think in terms of keeping our children safe, not exposing them to dangerous or uncomfortable situations. Yet when we consider the truth held in Psalm 127:4, we realize our job, in actuality, is to hone our arrows - preparing them not for a life of safety and security - but rather to be released into the heat of the battle, striking the enemy and advancing God's Kingdom.
We have a friend, Stephanie Arnold, who was a member of the 2004 Olympic archery team. One day, I asked her what it took to compete at such a high level. She responded by saying, "Good vision is essential, the arrow needs to be well-balanced, and you must trust your equipment."
When speaking at family events or during our concerts, I often share several principles which I believe to be essential in preparing our children to live a life of purpose:
Be a Dad of Vision. Scripture tells us in Proverbs 29:18 that without vision people perish. For Lisa and me, our vision was to raise children who would live out their unique purpose with an attitude of ministry. Becoming a dad of vision requires us to see the big picture, to look beneath the surface and into our child's heart, recognizing their natural bents and doing our best to train our children in the gifts they exhibit (Proverbs 22:6). Being a dad of vision also means to look beyond the moment, realizing the decisions we make today – or refuse to make – play a great role in setting the course for our children's future. We should discipline fairly, consistently, and never in anger, understanding that discipline is not about punishment, but discipleship (Hebrews 12:9-11). Additionally, being a dad of vision requires us to look inward, to prayerfully identify our short-comings and work to overcome them. This may mean we seek out mentors, faith-based study materials, retreats, etc, but the investment we make in our personal growth can reap amazing dividends in all our relationships.
Have something to say about this article? Leave your comment via Facebook below!
advertise with us
Example: "Gen 1:1" "John 3" "Moses" "trust"
Advanced Search
Listen to Your Favorite Pastors