The Bullies Among Us
Shannon Perry, If The Shoe Fits
Tuesday, September 04, 2012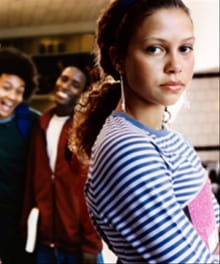 If applicable, keep a long, detailed journal of any injuries/incidents that occur, including pictures of injuries. Identify an adult that your child can report to daily while at school. Try to monitor your child's whereabouts and friendships and watch for signs of anger, anxiety and depression. Above all, teach your child social skills and how to find the right kind of friends.
Often times, parents make the situation worse by reacting in fear or anger to their child being bullied. This is a natural reaction, but may cause poor choices to be made. For example, it may seem realistic to call the parents of the bully, but this often leads to more conflict and may escalate the behavior. Don't tell your child to retaliate for both spiritual and practical reasons. 1 Peter 3:9 says, "Do not repay evil for evil or reviling for reviling, but on the contrary, bless, for to this you were called, that you may obtain a blessing." Under most school policies, your child becomes as guilty as the bully when retaliation is involved. Allow adults to handle it and if they will not, continue making your way to the top until someone takes notice. Never promise your child you won't tell anyone, but instead, reassure him/her that you will do your best not to make it worse. Involve your child in deciding what should be done if the bullying continues. Most of all, don't give up! No one deserves to be mistreated at the hands of another. There is hope!
If you find out that your child IS the bully, stay calm and meet with the adults who have witnessed the behavior. Apply clear and significant consequences and require your child to apologize to any he/she has offended with you as the witness. If necessary, "shadow" your child at school for a day. Go everywhere he/she goes and monitor behavior. Immediately reinforce positive behavior when your child does good and immediately seek professional help if the bullying behavior continues for an extended period of time.
Ultimately, God is our vindicator when we are being bullied, harassed or abused. Isaiah 41:11-13 says, "Behold, all who are incensed against you shall be put to shame and confounded; those who strive against you shall be as nothing and shall perish. You shall seek those who contend with you, but you shall not find them; those who war against you shall be as nothing at all. For I, the Lord your God, hold your right hand; it is I who say to you, 'Fear not, I am the one who helps you.'" There is hope for bullies, the victims of bullies and their families. All of us deserve to be treated with love and respect, and by emulating Jesus, we can begin to reshape the devastating effects of bullying when each of us confronts this issue with wisdom and understanding.
Bullying Statistics
The most common reason cited for being harassed is a student's appearance or body size. Two out of five teens feel that they are bullied because of the way that they look.
A victim of bullying is twice as likely to take his or her own life compared to someone who is not a victim.
One out of 10 students drop out of school because they are bullied.
It is estimated that 160,000 children miss school every day due to fear of attack or intimidation by other students. Source: National Education Association.
One in seven students in Grades K-12 is either a bully or a victim of bullying.
71% of students report incidents of bullying as a problem at their school.
One out of twenty students has seen a student with a gun at school.
282,000 students are physically attacked in secondary schools each month.
90% of 4th through 8th graders report being victims of bullying.
Harassment and bullying have been linked to 75% of school shooting incidents.
Shannon Perry is an author, conference speaker, recording artist and radio host. Her brand-new conference, "In Her Shoes," is designed specifically for mothers and daughters, tackling issues such as bullying, self-esteem, body image, social media, dating as well as other topics affecting tween and teen girls. Shannon holds a Master's Degree in Education and Counseling and is a Certified Instructor in Parenting Classes and Crisis Counseling. For more information visit www.ShannonPerry.com.
Publication date: September 4, 2012
Have something to say about this article? Leave your comment via Facebook below!
advertise with us
Example: "Gen 1:1" "John 3" "Moses" "trust"
Advanced Search
Listen to Your Favorite Pastors