Unfriended! Parenting in a Social Media World
Catherine Hickem, L.C.S.W., Author, Regret Free Parenting
Monday, March 05, 2012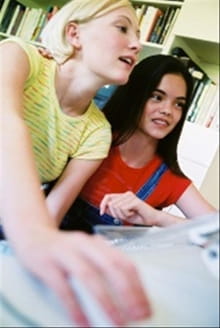 The High School Years
This season is especially tricky for parents because they do not want to have one more battle on their hands. However, teens should never have accounts that do not give you complete access to them. There is software you can install on all of your household computers which allows you to get a report on the sites that have been visited. This is not a bad idea if you need to monitor computers with multiple users.
Another healthy habit is for parents to sit down with their teen on a monthly basis and go over entries on their Facebook and Twitter accounts. This will help you become familiar with where your teens are spending their time. You will learn a lot when you see photos, read stories, and ask questions. Most parents would be shocked if they knew what their teens knew, saw, and read from their "friends".
Texting has gotten out of control at every age and it seems as if families cannot eat in peace without family members texting through dinner. Establish ground rules for your family, adults included, so time to talk, share, and listen are a normal part of your family's interactions. Set up 'no-texting' times and zones and be firm on this matter. Otherwise, technology will control your family instead of you controlling it.
Parents
Teenagers and young adults do not need or want to see pictures of their parents partying out of control or acting inappropriately. Even if they are present when the pictures are taken, it is a completely different issue for them to leave their personal world and go onto a site the entire world can see and observe. Bottom line, they do not want to be embarrassed in front of their friends. Parents need to consider how their postings and photos will impact their offspring.
Another issue parents need to consider centers around the idea of parents seeking to be "friends" with their teen's friends. This is highly inappropriate and places an undue burden on their children. It completely destroys trust and undermines a parent's role for that child. Know your teen's friends the old fashioned way: face to face. This will allow you to maintain your position as a parent and establish your authority in a healthy and meaningful way.
Technology is a wonderful contribution to our lives if parents allow it to be a tool instead of a substitute for real relationships. Healthy parents will make sure they are creating balance, teaching responsibility, and using it as an opportunity to assess their child's emotional maturity. By being intentional in this ever changing area of life, they will greatly reduce the likelihood of having regrets. After all, every parent wants to know they have done all they can do to raise healthy, well-adjusted children.
March 3, 2011
Catherine Hickem, L.C.S.W., is the author of the new book Regret Free Parenting: Raise Good Kids and Know You're Doing It Right, releasing March 2011 (Thomas Nelson) and is a licensed psychotherapist with three decades of experience. Hickem is a motherhood expert who has made it her life's mission to equip moms for every facet of raising exceptional children. Author, speaker, coach, and counselor, she founded Intentional Moms, a national not-for-profit organization that provides information, support, and insights on motherhood. Hickem lives in Delray Beach, Florida with her husband Neil. They have two adult children. To read Catherine's blog visit www.intentionalmoms.com
Have something to say about this article? Leave your comment via Facebook below!
advertise with us
Example: "Gen 1:1" "John 3" "Moses" "trust"
Advanced Search
Listen to Your Favorite Pastors