The Cross & the Pen: The Heart of a Mother
Eva Marie Everson
Wednesday, May 07, 2003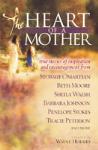 I met Wayne Holmes via the Internet before I met him in person. We know a lot of the same people and have done some "Net-working" together. This past summer we met face-to-face for the first time and it was like meeting an old friend. Wayne's first book, The Heart of a Father, (Bethany, 2002) is a collection of true stories about fathers and their children and includes stories by people like Josh McDowell, Chuck Swindoll and Gary Smalley. On the success of the first book, Wayne has now released (just in time for Mother's Day!) the sequel, The Heart of a Mother (Bethany, 2003), which compiles stories by people like Stormie Omartian, Gloria Gaither and Max Lucado.

Eva: Wayne, your book is a perfect gift or "extra gift" for mothers or for those who are like mothers to us-and especially for Mother's Day. And I think it's terrific that a man compiled the book. Can you tell the readers of The Cross & The Pen how you came about with the conception?

Wayne: I have to give credit to my editor who suggested The Heart of a Mother as a natural companion volume to The Heart of a Father. I think your question, however, goes more to the overall concept of both books. Occasionally a piece of writing so influences our lives that it creates a turning point. The story in the father book titled "See You at the House" by Bob Benson was one such story for me. After reading his story I never saw God the Father in the same light. I began to see him as a loving Heavenly Father who cheers for his children and often overlooks their mistakes. I wanted to take that story--and others like it--and put them together in one book that would honor God and give people a deeper understanding of his love for his children.

Eva: My personal favorite from The Heart of a Mother  is by Janice Thompson.  She shares that one of her children is not a "blood child" but still very much her own.  Because we have that situation in our family, my eyes filled with tears and I found myself saying, "Yes, yes! That's exactly how I feel..." What about you? Do you have a favorite?

Wayne: "The Day Mamma Baked the Bird," by Clint Kelly is my personal favorite. He blends humor into his story but then does a beautiful job of showing how his mother demonstrated the character of God. I love this line from his closing: "God is a cradler, a Redeemer of lost causes...."

Eva: Wayne, tell me about your mother.

Wayne: I am fortunate to have a godly mother who has always provided for my needs and loved me unconditionally. She's supported me through not only good times but also when times were tough. She's always said to me, "Wayne, you can do anything you set your mind to." In recent years her health has been a struggle and she has risen to the occasion by implementing a vigorous exercise program and making the changes in her diet to combat her diabetes. She's been a powerful example of love and courage.

Eva: That leads me perfectly into the next question: we know the importance of a child's relationship to their father when it comes to their perspective of God.  What about the role of a mother?

Wayne: The role of mother is as equally important as that of the father. In some situations where a father is absent it is of utmost importance. Male and female were both created in the image of God. I believe we need a balance of the father/mother role to give us the best portrait of the character of God.

Eva: Well said, Wayne. What does The Heart of a Mother offer to people who didn't grow up with a godly mother?

Wayne: The mother book gives real-life examples of what good mothering is all about. It helps those who didn't have a good role model for a mom to see how it should be done right.

Have something to say about this article? Leave your comment via Facebook below!
advertise with us
Example: "Gen 1:1" "John 3" "Moses" "trust"
Advanced Search
Listen to Your Favorite Pastors