The Most Important Thing to Teach Your Public School Child
David & Kelli Pritchard, Authors, Going Public
Monday, August 15, 2011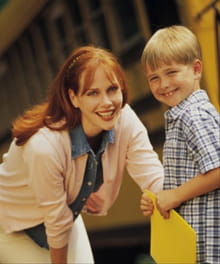 Preparation for a new school year each August is a major job for every parent. Notebooks. Pens. Calculators. A cool-looking backpack. The "right" clothes. The "right" shoes. Or in some districts, uniforms mandated by school policy. A gym bag. Money for a lunch pass. Next-of-kin identification forms, complete with multiple work and cell phone numbers for contact at any hour in case of emergency. Proof of vaccinations. Proof of sports physical from the doctor's office. The list goes on and on.
If you send your child to a public school, you need to arm her with something more, however. The most important thing is not on sale at Target or Costco. The registration people won't ask for it, but you dare not leave it out.
The most important thing to teach your child is what Jesus (quoting Moses) said was the greatest commandment of all:
Love the Lord your God with all your heart, and with all your soul, and with all your mind, and with all your strength (Mark 12:30).
Nothing is more important. Nothing is more foundational. Nothing will steer your child more effectively through the complexities, distractions and temptations of a day at public school. Young people who, of their own free will, deeply love the Lord and care about God's divine perspective can navigate the most treacherous waters with steady confidence.
We are talking about far more than just being a regular church kid. Lots of grade-school, middle-school and high-school students go through the Sunday motions, spend a week at summer camp, sing in the Christmas program, bring a can of green beans to the food drive and maybe even recite the Sinner's Prayer at some point along the way—but the core of their being is not captured by the love of God. Jesus asks for something far deeper.
We can tell this by the effusive way the sentence is worded. It doesn't just say, "Love God." It says to love Him with all your heart and all your soul and all your mind and all your strength. Nothing is halfway here. Jesus is talking about a total, all-encompassing embrace of the One who loves each of us more than we can ever comprehend.
All Your Heart
We Christian parents are not interested in raising little robots who can spout off a list of dos and don'ts—if that is all we achieve, the minute some situation pops up that doesn't fit the list, our child will drift and flounder. We are instead in pursuit of their heart. The heart is the center of the emotions. It is where the deepest loyalties reside. We want our child's heart so bonded to Christ that it can't stand the pain of separation.
It is not enough to expect right behavior from our child. We must expect right behavior with a right heart, a willing heart, a yielded heart. In other words, right behavior with a wrong heart is still wrong behavior. Doing the proper thing with a grudging attitude counts for nothing. Only when your child's heart is captivated by God will his behavior at school (and elsewhere) fall into line.
Does this sound impossible? Let us assure you it is not. Don't buy the lie of what society is saying about today's kids. Don't accept that kids are just naturally disrespectful and surly these days. If you accept that as reality, then you will not parent them in a way that achieves anything different.
You can raise children and teenagers who respect you, respect other adults and respect God. You can see your sons and daughters grow increasingly closer to you and to God as the years go by, rather than hardened and disinterested. But first you must believe that it is possible.
We will get into the nuts and bolts of this process later in the chapter. But for now, let's take note of a vital cornerstone for building: We must evidence our own attachment to God "with all our heart."
Have something to say about this article? Leave your comment via Facebook below!
advertise with us
Example: "Gen 1:1" "John 3" "Moses" "trust"
Advanced Search
Listen to Your Favorite Pastors