Tim Tebow and the Mom Phenom
Barbara Curtis, Crosswalk.com Contributor
Monday, January 09, 2012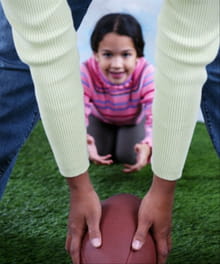 I asked other moms to share their thoughts and wish I had room for them all, but this will get us started – because in the end, I want to hear yours.
Jennifer writes:
I hated football. I told my husband when we married that he could watch any baseball game he wanted, but absolutely NO football was allowed in our home. Then came Tebow. I watched the NFL draft when he was picked up by the Broncos. I kept an eye on him and when he was chosen to be QB, I started to watch the games. Now I'm hooked and all the bad feelings have melted away. Tebow and his witness have melted my heart. Go Broncos!
Irene:
I have six daughters, four of them teens and pre-teens. They have never taken an interest in football, except for the Superbowl. And that's typically to socialize and for the advertisements. As I read the Washington Post article today about Tim Tebow, I read excerpts out loud to them. I'll tell you that they watched and cheered for most of the game today due to their interest in him and his story. That was a first!
Patty:
I have never been into sports much, but learned of Tim Tebow awhile ago, probably first heard of him when he won the Heisman, but have come to know more about it through the attention he gets in the media for his Christian views. I admire him for his strong convictions and faith. He's the kind of role model our children need, especially in the sports arena where so many sports stars have reputations of being womanizers, rapists, wife beaters, dog abusers, etc. He is a man's man, a woman's kind of man and the kind of man I pray my sons will grow up to be.
Here's my take: Like the magic when an otherwise macho movie adds a romance so we will go with our husbands to see it, Tim Tebow's story has opened a door for many of us into a world that used to be of little concern. Whether or not we remain interested in football, we will always be interested in stories like Tebow's and the wonderful ways God is messaging us.
Oh, and that "across the nation" line I started with? Scratch that. This just in from a missionary mom in Japan:
I love that he's an MK and I can point my little MKs to him! I was raised in a non-Christian (anti-Christian, really) home and so I am captivated by Tebow's parents and think often about what their home must've been like to mold a child like that (I know there are no formulas, but God obviously used them and it's so encouraging!). I love to hear about people who gave their lives to Jesus at a young age and never turned back.
What are you thinking about Tebow today?
Barbara Curtis, author and mother of 12 who blogs at MommyLife.net, says that if anyone had told her a month ago she'd ever write anything about sports in 2012, she would have laughed them out the door.
Have something to say about this article? Leave your comment via Facebook below!
advertise with us
Example: "Gen 1:1" "John 3" "Moses" "trust"
Advanced Search
Listen to Your Favorite Pastors