Transmitting the Faith: Second Generation Syndrome
James T. Draper Jr., Baptist Press
Friday, October 28, 2005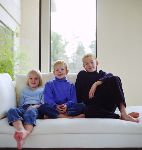 • Never have any of us ever heard our parents fighting, shouting at each other, or in any way mistreating one another. Love, kindness and grace were lived out before us and are present in each of these generations. Such things are "caught" more than "taught."
• Regular involvement at all church services (and usually all activities) was a given in our lives. We never knew we had a choice, yet we never felt we were made to attend!
• We were taught compassion, kindness and generosity. Each of our homes has been havens for friends and others to whom we ministered. Tithing and much more was a practice in our homes. It truly is more blessed to give than to receive!
• Integrity, consistency and obedience to God have been the characteristics of each family. We all learned early on to stand for what was right and to oppose what was wrong. And we learned to do it in a strong and firm, yet kind, way. Convictions don't have to brutalize others!
• Christian morality and biblical ethics were and are practiced and lived out in our homes. Consistency has always been a strong character trait in our families. "Do as I say and not as I do" has never worked! "What you see is what you get" is a good descriptive phrase for our families. We have never been good at putting on airs or pretending to be something we are not.
• Daily fellowship with the Lord and drawing strength from His Word continues to be a strong pattern in our lives. We can't make it one day without Him! He said, "You can do nothing without me" (John 15:5).
• Forgiveness and grace has always been the pattern. All of us understand that we are frail and sinful and in need of forgiveness and grace, so we learned to forgive others as we ourselves need forgiveness. By keeping this at the forefront of our lives we have avoided family squabbles, disputes and divisions that are so often seen. Our family really enjoys being together.
• All of these things are wrapped up in our unswerving conviction that the Lord Jesus Christ has a plan for our lives and we have found our fulfillment in Him.
I am proud of my family and my family heritage. My dad once told me, "The debt we owe to the past is to leave the future indebted to us." I am deeply indebted for the godly heritage I received and I pray that it will be passed on not just to two succeeding generations but many more.
God's greatest gift to us is our families. Let each of us make sure we have continued or begun a legacy of faithfulness for our children and grandchildren.


James T. Draper Jr. is president of LifeWay Christian Resources of the Southern Baptist Convention.

© 2005 Baptist Press. All rights reserved. Used with permission.

Have something to say about this article? Leave your comment via Facebook below!
advertise with us
Example: "Gen 1:1" "John 3" "Moses" "trust"
Advanced Search
Listen to Your Favorite Pastors