Unique Adoption Gives Couples Hope and Children a Chance
Michael Foust, Baptist Press
Tuesday, June 06, 2006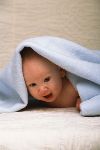 EDITORS' NOTE: This is the second story in a three-part series by Baptist Press on couples who have given birth through embryo adoption. To read the other stories in the series click here and here. An overview story about embryo adoption is available here.

GRAY, Tenn. (BP)--There was a time when Kim Lewis had a burning desire to have her own biological children. That time has passed.
Today Kim and her husband, Adam, are the proud parents of twins -- one a boy, one a girl -- born through a unique process known as embryo adoption. Sam and Katie Lewis were once frozen embryos -- destined no doubt for scientific research, at least in the minds of many. Now, they're healthy and energetic 14-month-old toddlers, enjoying all the perks that accompany that age -- eating, sleeping and playing. And, of course, bringing their parents plenty of joy.
"I'm so thankful now that we were not able to have children on our own -- that I was not able to get pregnant," said Kim, who along with her husband lives in Gray, Tenn. "Because if I was, we wouldn't have Katie and Sam, and I can't imagine having any other children but them."
As it turned out, Kim, now 26, was able to experience pregnancy, just not with her own biological children. After trying for two and a half years to conceive naturally, the Lewises turned to the National Embryo Donation Center (www.EmbryoDonation.org), a Tennessee-based service which allows couples to adopt extra frozen embryos left over from in vitro fertilization.
It is estimated that roughly 400,000 frozen embryos are being stored in fertility clinics nationwide. NEDC is among a handful of embryo adoption services. Others include the Snowflakes Frozen Embryo Adoption Program (www.Snowflakes.org) in California and Embryos Alive (www.EmbryosAlive.com) in Ohio. Embryo adoption typically is less expensive than traditional adoption.
"It was an answer to prayers and a chance for us to save at least two lives in the process," Kim said.
But the struggle with infertility seemed to last forever.
The Lewises, members of Binghamtown Baptist Church in Middlesboro, Ky., tried for several months to conceive naturally, but with no success. Finally, they visited a doctor, who diagnosed Kim as having premature ovarian failure. They were told they would be unable to conceive. The news was devastating.
"[But] we spent a couple years just researching and making sure [the doctor was right]," she said. "... We really wanted children, and I was grasping at every straw to find a way to get pregnant. Eventually it got to the point that it consumed all of my thoughts.... I guess I became obsessed with it -- it was all I thought about. I prayed about it all the time."
Eventually, about two and a half years after the Lewises began trying to conceive, Kim felt a sense of peace.
"I remember one specific afternoon when we were riding in the car. Adam was driving ... and I was thinking about [pregnancy] and praying about it, and all of a sudden I thought, 'OK, I quit.' I turned to Adam and said, 'I'm done. God has given me more than I could have ever asked for. We already have a happy family and this is more than I could have ever dreamed of. If we never have children, then I'm happy with what I have. If we adopt, then that's great. But regardless, I'm happy with us.'
Have something to say about this article? Leave your comment via Facebook below!
advertise with us
Example: "Gen 1:1" "John 3" "Moses" "trust"
Advanced Search
Listen to Your Favorite Pastors