What Are You Thankful For?
Crosswalk.com Readers
Wednesday, November 19, 2003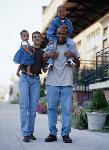 As we observe Thanksgiving Day, a special day set aside for giving thanks to God, we asked Crosswalk readers what they'll be giving thanks to God for this year.  We invite you to read and be inspired by their answers.

---
I am most thankful this year to my Heavenly Father because I was able to home school my 10-year-old daughter. Not every day has been easy, but I would not trade it for the world. We have shared so many things I know I have been missing out on.
– Susan C.
Wilmington N.C.

The thing I am most thankful for is my life.  I am a cancer survivor.
– Barbara F.
Glencoe, Okla.

Having all of the family together.  I'm thankful for Jesus Christ, The Holy Word, The Holy Spirit, family/friends and all the Lord has allowed us to go through to become like Him.
– Janet F.
Ala.
Our family is most thankful that God gave His Son for us and that through that grace we all have the gift of eternal life.  Thanksgiving is a special day to reflect on the freedom we have to worship in America, and to pray for and remember those around the world that are in persecution, that they would one day have religious freedom also.
– Cindy B.
Ariz.

The blessings of the last 6 months, financially and spiritually. He has and continues to supply all our needs.
– Toni S.
Evanston, Wyo.
I am most thankful this Thanksgiving for my family and the many blessings we have been giving through the years.
– Connie C.
Texas

I am thankful that our family is together this Thanksgiving since my husband is in the military! 
– Janee B.
Woodbridge, Va.

I am thankful for the baby that is developing inside me, and that I am no longer so sick to enjoy being pregnant.  I am thankful for my husband who is such a wonderful man of God, and so grateful God sent him to me.  I am thankful that we are not in need, and that God has always been faithful to take care of us.  I am thankful, that I know Jesus, especially since I wasn't raised to know Him, yet He made me His.
– Kristina R.
Lake Havasu City, Ariz.

My most fervent thanks is my family.  I am so blessed with everything I have, especially my family.  We enjoy being together, even though we home school; we do not like being away from each other very long.
– Elaine Y.
Texas

What am I thankful for this Thanksgiving?  Definitely my health.  But that answer seems lame when I am praying for at least two young people and three adults with cancer.  The other day during our prayer time, I mentioned to my kids the analogy of sin is to the heart as cancer is to the body.  They are 5 and 7 years old, and they understand that their friend, Jacob, is very sick because of this disease.  Sin makes our hard-hearted hearts ugly and sickly.  Jacob's chemo treatments seem not to be working.  But when Jesus cleans our hearts, He makes us righteous in God's eyes.  Chemo may or may not work on cancer patients.  But Jesus helps every time!  He forgives, and He makes my heart clean -- whiter than snow.  THAT'S what I'm thankful for this Thanksgiving!
– Tim and Cheryl S.
Ashland, Wis.
I'm most thankful for peace and learning discipline to live within my limits.  And my loved ones.
– Angela S.
Garland, Texas
That is very hard to narrow it down to a "most," but I think it would have to be that my entire family knows and lives for our Lord and Savior.  We were not raised in a Christian home, however, we were raised knowing about God and we practiced good morals.  When my parents became Christians, I was the only child left at home, and I was a teen by then.  Within six months of my parents' salvation experience, all three of my sisters and their husbands, and myself came to know the Lord.  Since that time (23 years ago), all of our children have also accepted Jesus as their Savior and are living a life for Him.  The older nieces and nephews have found Godly mates and are continuing on through the generations.  This Thanksgiving, we will have 23 family members around the table all with like minds and faith.  PRAISE GOD!
– Kim G.
Northglenn, Colo.
Have something to say about this article? Leave your comment via Facebook below!
advertise with us
Example: "Gen 1:1" "John 3" "Moses" "trust"
Advanced Search
Listen to Your Favorite Pastors