What Moms Today Can Learn From The Mother of Jesus
Eva Marie Everson , Author & Speaker
Thursday, December 05, 2002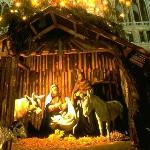 Mary, meanwhile, would have remained with her parents. Though considered "married," there were no intimacies between the husband and wife during this period-usually about a year's time in the case of the virginal marriage.

Mary's role was to remain at home and to begin to prepare herself for the day (though typically at night) when her bridegroom would come back for her with shouts of acclamation, pomp and circumstance.
The anticipation must have been exceedingly great! So much to do and so little time in which to do it in.
But right in the middle of all this, a bit of shocking news...and news that was more outrageous than has ever been revealed by the plus sign of a home pregnancy test.
Luke 1: 26-38: In the sixth month [of Elizabeth's pregnancy], God sent the angel Gabriel to Nazareth, a town in Galilee, to a virgin pledged to be married to a man named Joseph, a descendant of David. The virgin's name was Mary. The angel went to her and said, "Greetings, you who are highly favored! The Lord is with you."
Mary was greatly troubled at his words and wondered what kind of greeting this might be. But the angel said to her, "Do not be afraid, Mary, you have found favor with God. You will be with child and give birth to a son, and you are to give him the name Jesus. He will be great and will be called the Son of the Most High. The Lord God will give him the throne of his father David, and he will reign over the house of Jacob forever; his kingdom will never end."
"How will this be," Mary asked the angel, "since I am a virgin?"
The angel answered, "The Holy Spirit will come upon you, and the power of the Most High will overshadow you. So the holy one to be born will be called the Son of God. Even Elizabeth your relative is going to have a child in her old age, and she who was said to be barren is in her sixth month. For nothing is impossible with God."
"I am the Lord's servant," Mary answered. "May it be to me as you have said."  Then the angel left her.

There are a few things to note here:
1)    When the angel greeted Mary, the word used in the Greek is chairo (pronounced: khah'-ee-ro), and is your basic howdy-do. "Hello," the angel, in affect, said, and the greeting was not preceded by any forewarning. We don't read that Mary received a telegram or phone call before the visit.  "Ah, Mary...just so you know...an angel will be visiting you soon...and will have some really, really profound news." No, though the news came about suddenly, it was in a rather normal moment. Almost. Isn't that the way it is when we discover we're about to be mothers? A seemingly normal day, going about our normal business, and then, boom! Everything changes. It can be a sudden realization, a phone call from a doctor -- it doesn't matter. One moment we are responsible only to ourselves and our spouses. The next, to a tiny infant growing inside our womb.  Ain't life just funny that way?
Have something to say about this article? Leave your comment via Facebook below!
advertise with us
Example: "Gen 1:1" "John 3" "Moses" "trust"
Advanced Search
Listen to Your Favorite Pastors