What Moms Today Can Learn From The Mother of Jesus
Eva Marie Everson , Author & Speaker
Thursday, December 05, 2002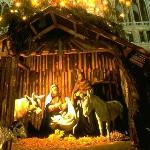 2)    Mary's question of "how can this be?" was not a question of doubt, but of a desire to understand. Mary had questions and she knew God had the answers.  Let me just stop here and fill you in on a little secret: Mothers across time have delivered their babies and not a single one of them came with a manual. Yet, who better to turn to than the One who by His very creation can take a sperm and an egg and turn it into a human being with individual characteristics?  Mother Mary had the right idea, there! Got questions? Ask God!
3)    The angel told her not to be afraid -- she would give birth to a son -- and he would be called the Son of the Most High. This one tiny line would change everything for the young virgin betrothed to Joseph.  One can easily imagine that thoughts of "how am I going to explain this" had to have passed through her head, even if only momentarily.  Would Joseph believe her story? Would he marry her?  Would he send her away (as would be his prerogative)? In fact, Matthew 1: 19 says, "Because Joseph, her husband, was a righteous man and did not want to expose her to public disgrace, he had in mind to divorce her quietly," so we know this was a certain threat for the young Mary.
But, Mary's son would not bring about a divorce for the couple.  Instead, He would be Messiah...and become their Savior...and, one day, their Bridegroom.
Three times after the birth of Jesus, we read that His mother "marveled" at things about him.  First, when the shepherds came to worship Him just after His birth. (But Mary treasured up all these things and pondered them in her heart. Luke 2:19)
Second, when Mary and Joseph took Jesus to the temple to be presented to the Lord.  There they met an old man named Simeon.  Simeon was a great man of God, whom God had promised would see Messiah before he died. As soon as Simeon saw the young couple and their infant, he praised God. ("The child's father and mother marveled at what was said about him." Luke 2:33)
Third, when Jesus was 12 years old, and was found amongst the teachers, asking and answering all sorts of questions.  At her rebuke, Jesus said, "Didn't you know I had to be in my Father's house?" (Luke 2:49) 
Mary, the Scriptures continue to say, "treasured all these things in her heart. And Jesus grew in wisdom and stature, and in favor with God and man. (Luke 2: 51b, 52)
Mary's son changed her life -- and countless millions of lives after hers.
What can mom's today learn from Mother Mary? Number one: Blessings often come in surprise "packages!"
Eva Marie Everson is the author of Shadow of Dreams & Summon the Shadows and an award-winning national speaker.  She can be contacted at for comments or for speaking engagement bookings at Bridegroomsbride@aol.com or you can go to www.evamarieeverson.com
Have something to say about this article? Leave your comment via Facebook below!
advertise with us
Example: "Gen 1:1" "John 3" "Moses" "trust"
Advanced Search
Listen to Your Favorite Pastors