When Dad Falls: A Family's Ordeal with Pornography
Rebecca Grace , Agape Press
Thursday, September 09, 2004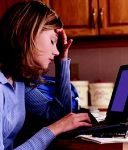 Although Sarah learned of her father's illness about four to five years before her mother asked him to leave, she later realized that her mother had found magazines even in the early years of their marriage.
"In the beginning, it fuels this kind of thought process. Then, at a certain time, it is instrumental in crystallizing it, making it into something that is almost a separate entity inside," Bundy explained.
Sarah eventually found pornographic videos hidden around the house, but what was most indicative of the problem was her father's changed attitude and personality. "I noticed my dad becoming less and less the fun social person I had always pictured," Sarah said.
She also noticed her father's lack of eye contact and interaction with her college friends. Sarah was disappointed. Tension began to build. Father/daughter conversation was silenced. "Things seemed to go unsaid a little more in a household that had always been very open and honest with each other," she said.
Despite their shame, the Smiths decided to have a family meeting.
"We confronted Dad with the truth about what we knew about his habits and how it made us feel. He sat and listened and never really responded," Sarah explained. "Once confronted several times, he admitted that he struggled but never to the extent that his addiction really went," Sarah said. "Towards the end, it was amazing what he was willing to risk in order 'just to see a picture.'"
"It started with magazines, led to videos, books, and eventually to the Internet and to photographing real women," Sarah said of her father's addiction. But it didn't stop there. "He became very angry, defensive, blaming everyone else ...," she said.
He also claimed that all men struggle with it and lied about his actions by covering his steps -- signs of a sexual addiction according to Fires of Darkness, an organization focused on reaching out to pornography addicts and their loved ones.
"It was awful to know the truth of what was going on and have to listen to lies and not be able to speak out. I felt that I couldn't because of my role as a daughter to a father," Sarah explained.
At that point, the relationship between Sarah and her father deteriorated as she and the rest of her family feared his temper.
Since then, her father has received some counseling but not to the extent Sarah would like to see. She desires complete healing and restoration for her family.
"This addiction, like alcoholism, has places where people can go and live for weeks. I desire that for him," she said. "I do love him and know that I need to practice this [love] because he will always be my dad, but it is very hard and the relationship is very broken.
"I never saw and still have yet to see a desire [in him] to truly change. I have seen a lot of justification, rationalization, and blame," Sarah admitted.
Such excuses do not lessen the long-term effect on Sarah and her family. For example, Sarah admits that this particular situation has caused her expectations to falter when considering her own desires for a godly husband.
"Trust is a huge thing for me at this point," she admitted. "I think that I will struggle through trusting my [future] husband, wondering if I am good enough physically or better than all the false images that are out there for men to see ... I will always wonder what men, not just my husband, really do when they are behind closed doors."
But the evil mystery behind these closed doors does not prevent Sarah from finding comfort in her spiritual Bridegroom. "My heart is broken, but God touches me daily to remind me that even in the brokenness, He completely fills and satisfies," she said.
Have something to say about this article? Leave your comment via Facebook below!
advertise with us
Example: "Gen 1:1" "John 3" "Moses" "trust"
Advanced Search
Listen to Your Favorite Pastors