When Helping Hurts: Are You an Enabling Parent?
Allison Bottke, Author, Setting Boundaries with Your Adult Children
Tuesday, February 03, 2009
15. Have you begun to worry that the financial burden is more than you can bear?
16. Have you begun to feel that your marriage is in jeopardy because of this situation?
17. Have you noticed growing resentment in other family members regarding this issue?
18. Have you noticed that others are uncomfortable around you when this issue arises?
19. Have you noticed an increase in profanity, violence, and/or other unacceptable behavior?
20. Have you noticed that things are missing from your home, including money, valuables, and other personal property?
If you answered yes to several of these questions, chances are at some point in time you have enabled your adult child to avoid his own responsibilities—to escape the consequences of his actions. Rather than help your child grow into a productive and responsible adult, you have made it easier for him to get worse.
To put it simply, your helping is hurting—and it's time to stop. But trust me when I say that it won't be easy. Although it's high time many of our adult children begin to accept the consequences of their choices, the plain truth is we must first accept the responsibility for our own choices—past, present, and future.
Our biggest problem isn't about our adult child's inability to wake up when his alarm clock rings, or her inability to keep a schedule, hold down a job, or pay the bills. It's not about drug use or alcohol addictions. It's not about the mess these adult children are making of their life. The main problem is about the part we're playing in stepping in to soften the blow of the consequences that come from the choices they make.
The main problem is us.
Ending Enabling Behavior
From my experience, I've come to learn four life-saving truths about changing enabling behavior.
We can pray for the power to change ourselves.
We can help (not enable) adult children of any age develop wings to fly on their own.
We can find comfort in knowing we are not alone on this journey.
We can take back our life!
But it's going to take time—and support from others.
---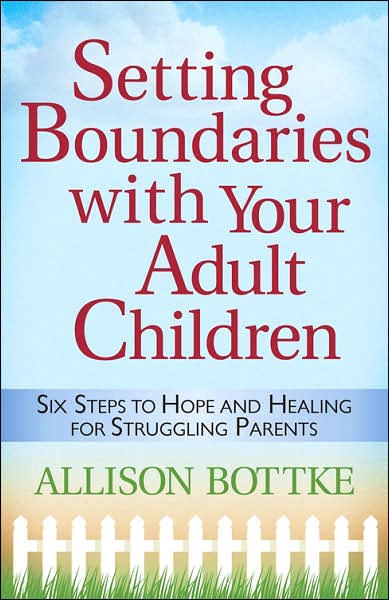 If you're a hurting parent who dearly loves your adult child but longs to see him at last take responsibility for his life, please take a moment to watch the video "When Helping Hurts" on the audio/video page of our web site. It could save your sanity—and maybe even your adult child's life. Video clip at: http://www.settingboundaries.com/audio-and-video/
---
Adapted from Setting Boundaries with Your Adult Children, Six Steps to Hope and Healing by Allison Bottke © 2008. Harvest House Publishers. All rights reserved. Visit www.SettingBoundaries.com
Have something to say about this article? Leave your comment via Facebook below!
advertise with us
Example: "Gen 1:1" "John 3" "Moses" "trust"
Advanced Search
Listen to Your Favorite Pastors