An Interview with Singles Author Leigh McLeroy
Staff
Friday, April 02, 2004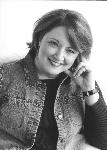 Being single—especially as a Christian—brings with it a whole spectrum of unique challenges. It can be nearly impossible to enjoy the good parts of being single when there are so many explicit and implicit pressures to marry and raise a family. In Moments for Singles, Leigh McLeroy offers other singles longing to be married real hope and encouragement. Sincere and heartfelt, these devotionals explore issues of forgiveness and healing, and challenge singles to live vulnerable, purposeful lives before God.
McLeroy is a contributing writer of seven books, including Romancing the Home and Everywhere I Go. A graduate of Texas A&M University, she worked as an on-camera news reporter before venturing into advertising and marketing. McLeroy speaks to groups across the country and has led many church and home Bible studies for singles. A self-described "not-yet-married-but-still-quite-hopeful" person, she makes her home in Houston. Check out our interview.
Crosswalk: What has been your experience being single?
McLeroy: It's been glorious and awful. Easy and hard. There have been challenging seasons, and seasons of plenty. I've experienced an awful lot of joy, and my fair share of heartbreak. And God has been present and obviously and not-so-obviously at work in all of it.
Crosswalk: What are the feelings you struggle with most as a single person?
McLeroy: Just the basic desire for another person's physical presence is huge sometimes. And for the perspective and accountability and balance of having one person who knows you better than any other person alive. I adore children, too, and would love to have my own, which for me, singleness precludes.
Crosswalk: Why is it hard to be a single Christian who wants to be married?
McLeroy: As opposed to someone who isn't following Christ and wants to be married? Because if you choose to obey God, your options narrow. And if you choose to follow hard after Him, they narrow even more. But the upside to that is, you have the potential to experience something very few do: a marriage that not only deeply satisfies you and your mate - but one that brings God glory and blesses others, as well.
Crosswalk: What is the "ring game"?
McLeroy: It's the game that gets you looking at other people's left hands and wondering, "Why them and not me? Don't I deserve the prize?" Too many of us simply want an outward token that says to the world "I'm accepted and loved. I belong," whether that's true or not.
Have something to say about this article? Leave your comment via Facebook below!
advertise with us
Example: "Gen 1:1" "John 3" "Moses" "trust"
Advanced Search
Listen to Your Favorite Pastors